From adding a simple water feature or hot tub, to building a full-on pool house or garden office, after lockdown many people were inspired to give their garden the ultimate makeover.
When you compare pre-lockdown data with these post lockdown times, the term 'garden makeover' has had a 176% increase. So, we're still very much thinking about the ways we can improve our garden spaces.
While you might want to spruce up your garden so you can spend more time outside and reset in nature from the comfort of your own home; did you know that it's also a superb way to improve the value of your home?
Crown Pavilions have delved into finding out what the nation's favourite garden features are, which features Brits spend the most money on, and which features are actually going to bring the most property value to our homes.
"There are endless ways to make the most out of your garden. Building a dedicated area for your hobbies, a tranquil work environment, a fully functional home gym, yoga studio, playhouse or garden office, can add real value to your home", says Luke Dejahang, CEO & Co-founder of Crown Pavilions.
How much do we spend on our gardens?
On average, Brits have spent a whopping £5,783 on improving their gardens. Interestingly, 1 in 10 (10%) have spent between £5,000 to £7,000 on their gardens in total. But it seems we're not just willing to stop there! When we asked how much the nation was willing to spend on further garden renovations, they said £3,353.

There truly is no better feeling than the sweet smell of barbecues creeping through fences in the British summertime. It seems Brits don't want to envy their neighbours' summer meals as our research revealed that most people invest their garden money in their barbecues!
1 in 10 (10%) people said the garden item they had spent the most on was their barbecue – licensed to grill!
However, we also found that 1 in 9 (11%) barbecue owners put this purchase down as their greatest regret – perhaps the weather during the rest of the British year has to account for this. Similarly, vegetable and fruit patches are garden features Brits have invested heavily in, however a whopping one in every 6 (15%) have regretted this expense!
The garden features most Brits have spent money on:
Barbecue
Decking
Vegetable/fruit patch
Lighting
Greenhouse
Garden office
Pond
Playground equipment
Garden room
Garden statues/ornaments
According to Cat Sollis, a realtor expert and Senior Digital Operations Manager at Dawsons says that barbecues, deckings, vegetable patches, greenhouses, lighting, ponds, playground equipment and ornaments are all fantastic features that will help make your garden and home more sellable, however these do not necessarily increase the property value just by being there.
"If you are selling now or in the near future, it is always worth keeping in mind who your target audience is (i.e who your likely buyer is) and then add or remove features to tailor the appeal to your potential buyers."
"For example, if your likely buyer is going to be a young family, showing the garden in its best light for children will ensure you are tailoring the appeal and showing your buyers the potential of your garden. If your property is more rural, then demonstrating that there is ample space for a greenhouse and vegetable patch would be appealing to those buyers who wish to be more self-sustainable."
"You are more likely to sell quicker and possibly achieve a higher price if your buyer can visualise the lifestyle they want in your home."
How does a garden improve your property value?
In recent months, gardens have become a must-have for many potential home buyers according to Cat Sollis. The bigger your garden, the more value it's likely to add to your home. Just as square footage can add value to a home's interior, more garden space generally adds value, too.
Learn how a garden room can add value to your home.
"Since COVID, more and more people are working from home, and many are evaluating how they spend their time outside of work. Gardens are highly sought-after and having one can increase your property value by as much as 16%, depending on the size, location, privacy and extra features."
"As you would expect, not all gardens are equal. Generally speaking, the smaller the garden the less it can add to the value of the house. However, it is worth keeping in mind that a small garden for a £1,000,000 house may be a very large garden for a £200,000 house!"
The top 10 features that could bring the most value to a home:
Location
Size
Privacy
Garden office/room
Decking/landscaping
Security/ fencing
Greenhouse
Vegetable patch
Barbeque
Garden statues/ornaments
What are the most popular uses for garden rooms?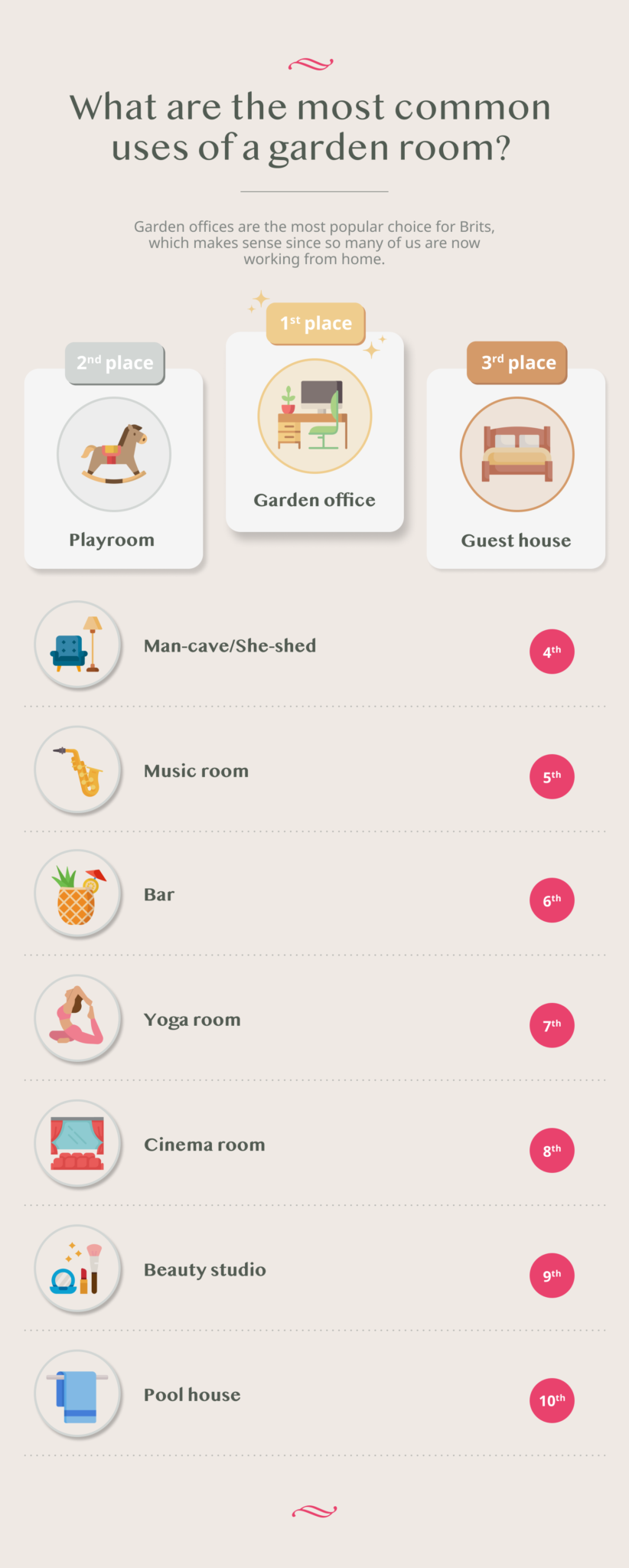 Adding a garden room to your outdoor space is one of the most popular outdoor home improvements. According to our survey every one in eight people (12%) have a garden room.
Our research found that garden offices are hugely popular amongst those with garden rooms, with every one in three people (32%) saying they use their garden room as an office.
Interestingly, more than half (54%) of people use their garden room for running their business, including home offices, beauty studios and personal training space. This comes as no surprise since most people have taken up a side hustle during lockdown.
See below for a full breakdown of the data:
The top 10 things people use their garden room for:
Office
Playhouse/ playroom
Guest house
Man-cave/ She-shed
Music room
Bar
Yoga room
Cinema room
Beauty studio
Pool house
Luke Dejahang, comments: "We have found that garden offices are one of the most popular uses of our garden rooms and can be extremely beneficial for both financial and lifestyle reasons. We've seen sales of garden offices rise by 40% over the last year, and especially after the first lockdown, when we saw 65% increase in sales."
Does age matter when it comes to garden rooms?
Our research found that the younger generations (25-34) seem to favour playhouses as the purpose of their gardens, with almost 2 in 5 (37%) saying this. However, those aged between 35 and 44 mostly use their garden room for an office, at 39%.
Mancaves seem to be a favourite for those aged between 35 and 44 as well, with every one in three (31%) respondents in this age group saying they have one.
In terms of those aged over 65, more than a quarter (26%) use their garden room for a bar – bottoms up!
How much does a garden room add to your house value?
According to Cat Sollis, a garden room is a great way to add value to your home and could increase your property value by approximately 5 and 15% – depending on the size, quality and of course your home's location.
"Garden rooms can be superb, multi-functional spaces for relaxing, working, or exercising. With more and more people working from home, a bespoke office space away from the main property can be hugely appealing for buyers and a garden room is a great way to offer that."
"A garden room adds a certain 'wow factor' to a property. Not only does it make a positive visual impression, but it also enables your property to stand out to potential buyers before they have even arranged a visit. If there are three similar properties for sale on your street and one of them – yours – has a garden room, the house with a garden room could attract a greater number of viewings"
She also points out that a high-quality garden room expands the appeal of your property to include small business owners and self-employed professionals – especially if your garden room is already set up as working space.
Self-employed professionals or business owners may be prepared to pay a premium on your property for the convenience of having a garden office already there, as it will save them the time and expense of having one built themselves.