The idea of garden gyms is becoming increasingly popular. Crown Pavilions have gone from designing and building a few each year to installing that same number consistently on a monthly basis. It's easy to understand why when you consider all the benefits:
No more gym fees (luxury gyms can range thousands of pounds a year)

No excuses: the gym's right there in your garden space, whenever you need it

Create space in your home: no more spin bikes in the bedroom or bench presses in the garage

Workout in private: you will have the convenience and comfort of your gym with no more inconsiderate gym junkies to wait on
Based on our extensive experience, here are the top 5 considerations when starting your garden gym project.
1.) Garden Gym Building Size
A 5m x 4m space is optimal for most garden gyms, providing enough space for an array of equipment as well as space to stretch and warm down. You can scale this down to 3m x 3m if you're prepared to limit your equipment to a spin bike and weights.
Building height is another important consideration with your garden gym project. You're allowed 2.5 metres in height without seeking planning permission if the building is less than 2 meters from your main dwelling. If you are able to have the structure 2m or more from a boundary line then you can go up to 3m total height which with a Crown building would give a 2.5m – 2.7m internal height finish depending on your base. You could even go to a total of 4m with a pitched roof.
If you do need planning permission: don't panic, we've helped hundreds of clients with this aspect of their project and can ensure all is plain sailing.
2.) Flooring
One of the great things about garden rooms is they are so adaptable, you might want a gym now but down the road, you might want to use your garden gym building as an office, yoga studio or even den for the children. With that in mind, it's important to protect the flooring for future use. Our floors are all made of engineered oak (never laminates) so they are extremely hard-wearing.
Depending on the type of equipment you will be using you may require a different base, from heavy weights and high impact dance to a yoga studio or simple cardio set up they will need a different base structure. We will help you design the best solution to ensure that there are no issues down the line.
Tip: If you are going to be using free weights, we recommend you use commercial grade interlocking foam or rubber floor tiles to protect your timber flooring.
3.) Heating and Cooling
All our garden rooms come with industry-leading residential grade insulation as well as double glazed windows and doors. To keep you cool in the summer our bi-focal doors allow you to open up the entire side of your garden gym to cooling breezes. You can also customize your garden room to include additional windows and doors for added ventilation.
Crown can also install an efficient, wall-mounted, climate control unit which will keep you cool in the summer and warm in the winter and is the most popular choice for gym buildings.
4.) Garden Gym Equipment
Space is always at a premium in any garden room project and this is especially true for garden gyms. Have you ever been to a gym that's full to the rafters with equipment but has no space to work out? Our garden room designers can help you formulate a home gym floor plan to make the most of your space with tips and tricks we've learned over the years. It is amazing how much equipment you can fit in a small space with the right design. Most of our gyms average only around 15 – 20m2.
There are certain types of equipment that lend themselves to garden gyms. Our favourite is TRX training equipment which utilises almost no space and provides for a well-rounded workout. We have experience in the requirements for strengthening the walls which is needed for the TRX hooks as well as yoga swings, straps or simply hanging a punching bag.
One additional idea to consider is a storage room. A place to keep additional equipment, day bags, etc. will enable you to keep your main gym area clutter-free. This could be with an internal door meaning that the room would double up as a free space studio for dance, yoga, aerobics and a workout gym.
5.) Audio & Visual Equipment
Don't make this aspect of your project an after-thought. We can integrate recessed speakers into the ceiling, so you don't have to use valuable floor space for speakers. We can also soundproof your garden gym so you can get in a high energy workout without disturbing the neighbours.
Further Garden Room Ideas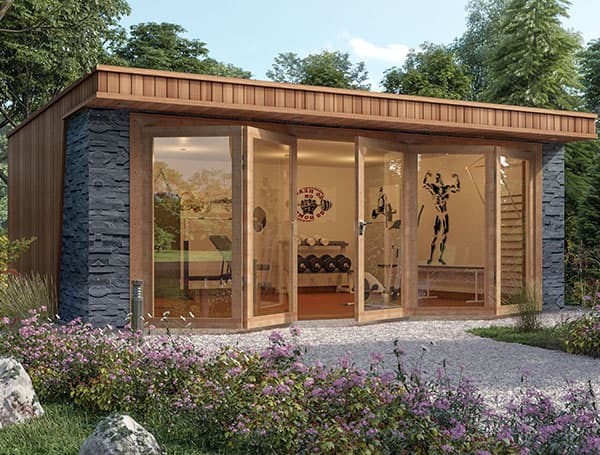 They didn't make into our top five, but security and privacy are also key considerations. All our garden rooms come with multi-point locking and Euro-standard door and window locks and we can also advise on garden room alarm systems for added peace of mind. Finally, for privacy, you may want to consider frosted glass on the front of your garden gyms.
To find out more about our garden gyms, or to simply get advice on your wooden gazebo project, get in touch and speak to an expert today!
Luke Dejahang
CEO & Co-founder
Email: luke@crownpavilions.com