A luxury garden room provides you with a blank canvas to design and decorate as your heart desires, down to all the finer details, from the floors and walls to your choice of windows. Windows can make all the difference to the style and atmosphere of your new build, helping create a seamless flow from your garden into your indoor garden room. Here are just a few garden room window ideas to enhance your space.
French windows
If you're looking to create a light and airy garden room, French windows are a great option, enabling you to open your space fully to the outdoors and allow plenty of natural light and fresh air to stream through.
Known as 'portes-fenêtres' in French, which translates directly to 'window doors', French windows are characterised by their long, narrow shape and door-like hinged openings. In fact, some French windows are even tall enough to walk through offering direct access to beautiful verandas and terraces, and look spectacular when adorned with rustic wooden shutters.
Traditionally, French windows were made from wood and iron but are now more commonly made from uPVC and aluminium to meet modern standards, offering a classic twist to contemporary buildings.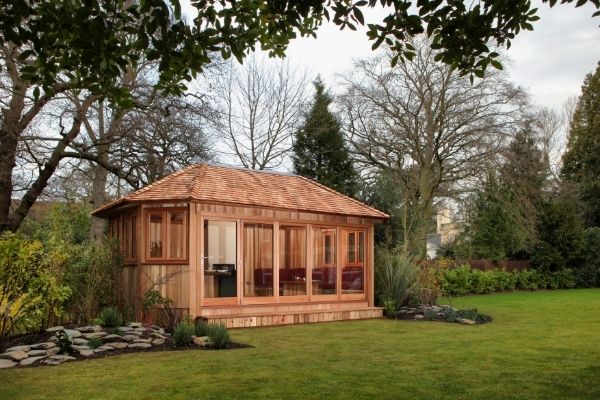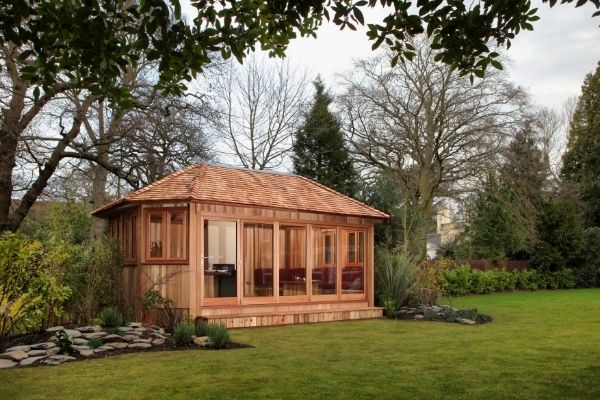 Casement windows
Casement windows are one of the most popular types of window in Britain and can be found in the majority of modern UK homes. Typically hinged from the side, casement windows swing outwards, are easy to open and require very little maintenance. Casement windows also come in a range of sizes and can be positioned as high or low on the wall as you desire. This makes them a suitable choice for garden offices since they can be placed just above desk level to provide ample natural light throughout the day.
Awning windows
Unlike casement windows, awning windows are hinged at the top and open from the bottom. The main benefit of awning windows is that they provide protection against the elements while still allowing for plenty of ventilation. This makes it an ideal choice for a garden room in the UK since you can open your windows even when it's raining outside with no risk of water coming in. Opting for small awning windows can also protect against break-ins and theft since they are too small to climb through, for added security and peace of mind.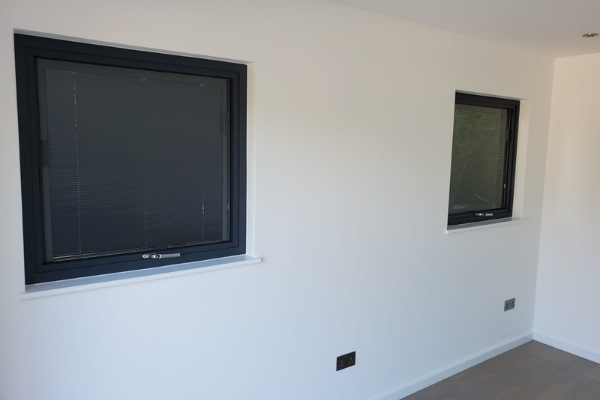 Bay windows
A bay window refers to any arrangement of windows made up of three or more units that extend out from the original wall. Bay windows add a stylish feature to your garden room and offer panoramic views of the outdoors – a prime spot for birdwatching in your garden or lounging on the window sill with a good book.
Bay windows are usually made from uPVC, timber and aluminium and come in a variety of shapes, such as round, square and bow. The unique shape of a bay window adds unique charm and sophistication to your garden room and is a highly desirable feature, especially if you decide to sell in the future.
Long windows
Long windows are essentially walls made from floor-to-ceiling glass panes and are one of the most popular window styles for garden rooms and offices. Most often, long windows are made from fixed glass panes and are installed alongside glass doors or other types of windows.
Long windows provide an unobstructed view of your garden surroundings and create an enchanting connection between the inside and outside. This makes long windows the ideal choice for all kinds of garden rooms, including anything from peaceful meditation rooms to modern dining and entertainment rooms. The stunning 'glass wall' effect creates a contemporary focal point in your garden and is sure to impress your friends and neighbours.
Porthole windows
Create something truly unique and go for a porthole window. Unlike traditional window styles, a porthole window, also known as a 'bull's eye window', is round and often placed on the gable-end of your roof. They add a quirky feature to your garden room, offering character and quaintness. Porthole windows are most commonly found on barges and other boats however, uPVC porthole windows are becoming increasingly popular in homes, too.
Skylights
Skylights are windows built into the roof of your building which let natural light flow through from above and create the illusion of a larger space. They provide natural light all day long, whether your garden is South, North, West or East-facing!
Alongside letting in lots of light, skylights can help warm up your garden room using solar heat which can be beneficial during the winter months, helping you save on energy costs. During the summer, we recommend installing blackout blinds to prevent your garden room from getting too hot. Like bay windows, skylights are a beautiful, sought-after feature that can increase resale value of your property.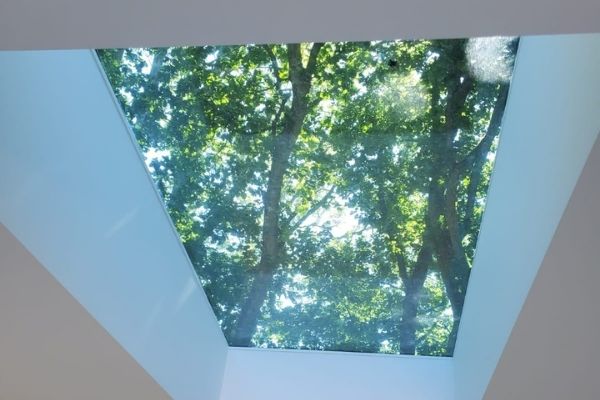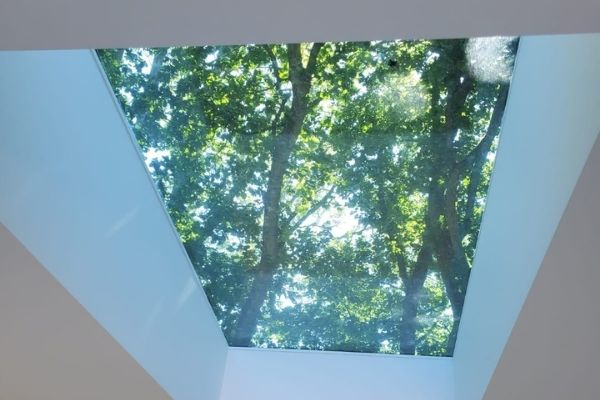 Windows on gable ends
Built into your garden room roof structure, a window on a gable end offers a stylish addition to your outdoor building and looks fabulous from both inside and outside. A roof gable may typically be a triangular shape but offers ample space to get creative – be that installing multiple smaller windows with wooden frame for a rustic farmhouse look or one grand seamless window to cover the entire gable-end for a more modern aesthetic. You can even install a trendy chandelier to take centre stage and hang visibly from your gable window.
Note that building a window on a gable end may be subject to planning permission.
Sash windows
Dating back to the 17th century, sash windows remain a popular choice in modern architecture, adding a chic Georgian feel to your home. Sash windows consist of two window panes that work on a pulley system to slide over one another to create an opening. Originally crafted from timber and single-glazed panes, modern sash windows are now made from plastic or metal for added durability and can be double-glazed for insulation. The one downside to sash windows is the maintenance. Since the two windows overlap slightly, this can fill with garden debris and requires regular cleaning to keep it looking its best.
Shaped windows
Why not think a little bit more outside of the box? Literally. Glass windows don't have to be square; they come in a range of interesting shapes, such as octagons, triangles, eclipses, pentagons – you name it. You can use a combination of window shapes to add quirkiness to your garden room or even install windows in tight nooks where a traditional square or rectangular window may not fit. Shaped windows may come in at a higher price point but the end result is worth it.
Smart Glass
Smart glass, also known as electronically switchable glass, refers to a type of glass used for windows that allows you to control how much light it lets through. It works by switching from transparent to opaque, or frosted glass, to allow for added privacy and protection against visible, Infrared and UV rays. This is ideal for a garden room if you want to protect expensive furniture from the sun or hide away from nosy neighbours.
Stained glass
Stained glass has been used for thousands of years to adorn magnificent architecture, such as churches and castles. Now used more commonly in modern domestic buildings, stained glass can add a colourful and sophisticated touch to your garden room both inside and out. Not only does stained glass look beautiful from the exterior but as the sun beams through, creates a kaleidoscope of colour throughout the space – perfect for a South-facing garden!
Crown Pavilions windows
At Crown Pavilions, our luxury garden rooms come with premium aluminium-framed windows as an optional upgrade, complete with air vents and seals for increased longevity. All our windows are also double-glazed and argon-filled windows for added insulation. We also offer the option to include integrated Venetian blinds within your double glazing for a sleek design.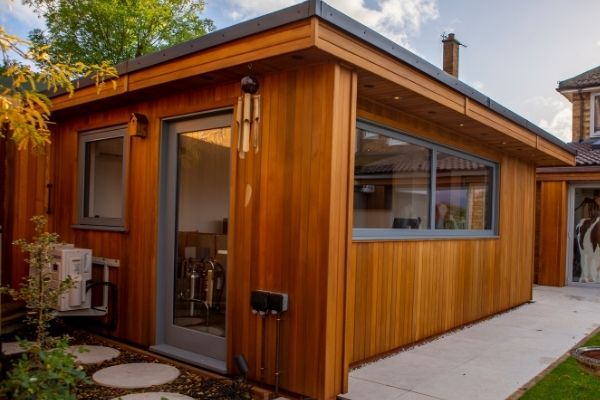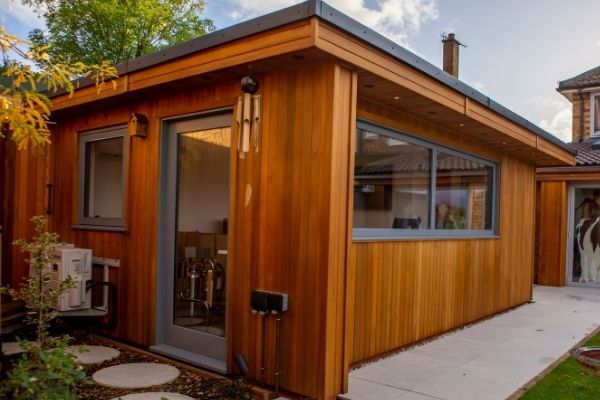 Browse our garden room collection or get in touch with our team for more information.
Luke Dejahang
CEO & Co-founder
Email: luke@crownpavilions.com