A question we get asked a lot is how much does a garden room cost? It can be a very difficult question to answer since the cost of a garden room will vary greatly depending on many different factors, the most obvious being size. At Crown Pavilions, we offer a starting price for each of our garden room models and our wooden gazebo models, which helps to give you an indication of the size of the investment. Here we'll explain more about what's included in the price of a garden room, as well as potential additional costs to consider when building a garden room.
For more information on how much a garden room costs, please download our brochure.
How much is a garden room?
The cost of our premium collections of garden rooms starts at £37,200 (excluding base) but varies depending on a number of factors, including:
The size of your garden room
Whether you choose a standard garden room or bespoke design
Your chosen cladding option (for example, cedar cladding will add considerable cost to your garden room vs. Thermowood)
Adding windows to your garden room
The required groundworks or levelling (all our standard garden rooms come with a ground screw base included)
We offer three beautiful garden room models: the Sandringham, Clarence and Buckingham. Each model is unique in its own way but all boast meticulous craftsmanship and exquisite design.
The Sandringham is our classic model which features a timeless timber clad roof. It is available in sizes ranging from 4m x 3m, all the way up to 10m x 5m and includes a range of additional features. The Sandringham has a starting price of £37,200, however this is subject to change depending on chosen size and upgrades.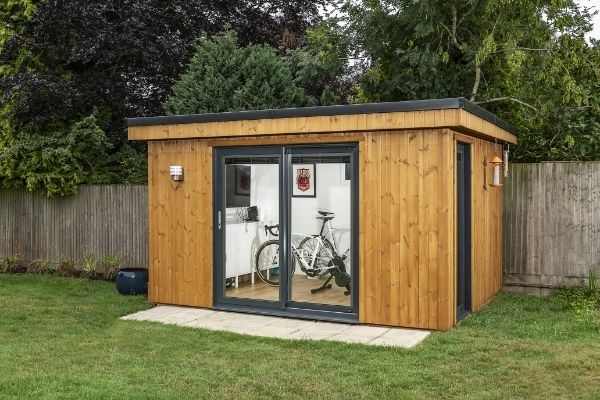 The Clarence is our contemporary model, characterised by its striking feature wall which is available in a selection of finishes. The Clarence ranges in size, from 4m x 3m to 10m x 5.5m with a starting price of £37,800.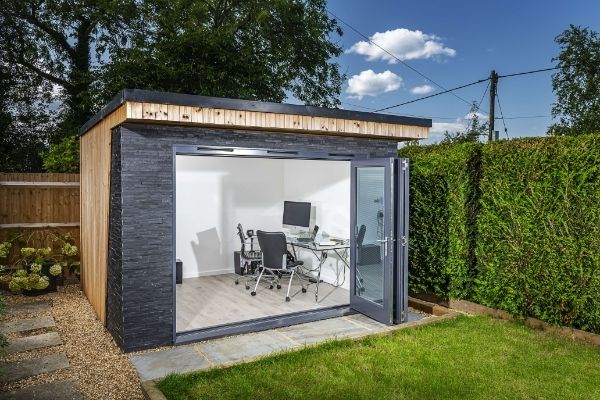 The Buckingham model is our most versatile, combining an insulated room with an attached gazebo area, providing both outdoor and indoor living space. With the Buckingham, you can build from 5.5m x 3m, up to 10m x 5.5m with prices starting from £41,400.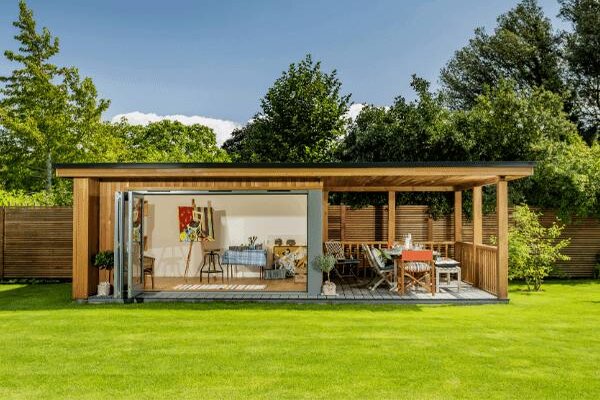 We can also work with you to design a bespoke garden room, tailored to suit your lifestyle. When it comes to bespoke garden rooms, the possibilities really are endless, so giving an indication of cost without knowing the specifics of your build is difficult. The cost of a garden office, hot tub shelter, or home gym, for example, will vary hugely.
At Crown Pavilions, we offer 100% transparency with regards to the price of our garden rooms and if you are looking for a quote for a specific build, please get in touch with our team who will be happy to provide you with an estimate.*
What's included in the price?
A garden room often includes so much more than just the building itself. Choosing a luxury Crown Pavilions garden room means you will also benefit from the following as standard:
Thermowood cladding
Pent (lean to) EPDM rubber roof
Double glazed, aluminium framed, French, sliding or bi-fold doors
190mm thick walls (Residential grade/TRADA guidelines)
100mm premium grade rockwool slabs and 90mm high density foil backed insulation
Premium grade engineered hardwood oak flooring
External finish in UV resistant Natural Oak or Rick Walnut
Internally plaster boarded & painted walls and ceiling
Brushed stainless steel lighting with recessed dimmer spotlights
High-grade flush mounted sockets (pre-wired)
Ground screws base/foundation
10-year guarantee (structural integrity and timber decay)
All essential aspects listed above are included when you purchase a standard Crown Pavilions luxury garden room, however we also have a selection of superior additional features and upgrades for you to choose from, such as underfloor heating and air conditioning, skylights and much more.
Are there any additional costs to consider?
There may be a few extra costs to consider in addition to the cost of the garden room itself, which include:
Site survey: a site survey is essential in order to determine whether a concrete base or ground screws are required for the foundations of your garden room.
Groundworks: post-site survey, you will either need to install a concrete base or ground screws to act as the foundations to your garden room. We can provide a quote for this service on request.
Mains electrical connections: you will need an electrician to run an armoured cable from your fuse box to your garden room. We can also provide a quote for this service on request.
Levelling: level ground within 20cm is required to build a garden room. We request this is completed before we begin the building process. We do not offer this service, however we can advise on the types of groundwork required during your consultation.
Planning permission: a garden room which exceeds 30m x 30m is classed as an annexe building and requires planning permission, which can sometimes incur additional costs. A Crown Pavilions garden room rarely requires planning permission as it falls within permitted development guidelines. Read our guide to planning permission to find out more.
Delivery costs: when choosing a garden room provider, we recommend carefully reading the terms and conditions as many will not include nationwide delivery in the cost. At Crown Pavilions, delivery and installation within mainland UK and Wales is included in the price. For other destinations, a surcharge may apply.
What upgrade options are available?
When you choose to build a garden room with Crown Pavilions, there are a variety of additional upgrade options available to you. We can help you install anything from TV points, integrated sound systems and skylights to custom kitchens, built-in bars and steam rooms upon request. Please get in touch with our team who can advise and provide a quote on your chosen upgrades.
Are garden rooms a cost effective alternative to traditional home extensions?
A garden room is excellent value for money, especially in comparison to alternative home extensions, such as traditional extensions, conservatories and annexes. Homeowners can spend anything between £75,000 and £300,000 on a side extension and £13,950 and £100,000 on a conservatory whereas a garden room starts at £26,800. Our garden rooms are also built to exacting residential standards and come with a 10-year structural guarantee against rot and decay.
Is a garden room worth the cost?
A garden room makes a valuable addition to your home; it acts as a long term investment, an appealing selling point of your home and, best of all, provides a beautiful space to use as you wish. Just like a regular extension, building a garden room can increase the value of your home significantly. In fact, the value price per square metre ranges from £1,456 to £5,106 in the UK.
A garden room is also a much quicker and cost-effective way of extending your home and increasing your living space in comparison to conversatories, loft conversions or attached home extensions. Installing a garden room also causes much less disruption to your home life during the building process as it's separate to your main residence.
A Crown Pavilions luxury garden room is constructed from the finest quality materials so you can make the most of your garden for years to come. Read our blog to find out how much value a garden room can really add to your home.