A garden room provides an aesthetic addition to your home, offering unparalleled luxury appeal and endless functionality. However, do garden rooms add value to your home? In short, the answer is yes. Read on to find out more about how your garden room can become a long term investment, increase the value of your property and even provide a steady stream of income.
Will a garden room add value to my house?
A garden room will undoubtedly add value to your home. According to real estate expert Cat Sollis, the feature could boost value by up to 15%.
Learn how much a garden room costs in our helpful guide.
How does a garden room add value?
Let's look at a few ways garden rooms add value.
They offer increased floor space
Garden rooms offer an impressive space that you or prospective buyers can personalise. Extra space is always attractive, especially in the private luxury of a garden room, and can be put to a variety of uses, such as a man cave, a music studio, a garden kitchen, or a games room.
View some impressive garden room designs for inspiration.
They enhance garden aesthetics
Garden rooms are beautifully designed and visually stunning, making your garden more attractive and allowing you to enjoy your garden all year round, regardless of the weather!
They set your home apart from others on the market
Prospective buyers are guaranteed to remember a home with a garden room, especially if yours is the only one in your area or neighbourhood. They'll undoubtedly increase interest in your home, meaning you probably won't need to compromise on your asking price.
They're highly desirable
Ultimately, garden rooms are highly desirable and versatile features that enhance the beauty and functionality of your property – a guaranteed way to add value.
All Garden Rooms Add Value: Classic, Contemporary or Bespoke Designs
At Crown Pavilions, we offer three beautiful garden room designs, including the Sandringham, Clarence and Buckingham. Each garden room offers its own stunning architecture and is excellently crafted to offer both style and durability. The Sandringham model allows you to build up to 10m x 5m and choose from a range of upgrade features. The Clarence is our most contemporary design with modern, bold exterior finishes, and was first launched at the RHS Chelsea Flower Show. The Buckingham design offers a multifunctional space which incorporates a fully-insulated room with an outdoor gazebo area, perfect for alfresco dining.
Each design is unique in its own way and is sure to provide a lifetime of enjoyment and create a point of interest and attraction for your home. However, if you really want to stand out, why not go for something entirely bespoke?
Design a garden room to suit your lifestyle and fits seamlessly into your outdoor space. A stuck-on annexe or mismatched home extension can be a bit of an eyesore and doesn't always offer the best configuration of space. Whereas, a bespoke luxury garden room creates a well-designed space that effortlessly blends into its organic surroundings with its natural timber exterior.
Does a Garden Office Add Value?
As well as a range of different designs, there are endless different ways you can make the most of your garden room. Whether you choose to create a dedicated space for your hobbies, a tranquil work environment, a fully-functional home gym, recording booth, yoga studio or home office garden room, you can add real value to your property.
Garden offices are one of the most popular uses for our garden rooms and prove to be extremely valuable for various reasons, both in terms of finance and quality of life. Firstly, a home office is built just seconds from your home which can help you to embrace a better balance between work and home life. With a home office, you no longer need to waste time and money on your commute and can save precious time to spend with your family. If you are self-employed or run a business, a home garden office can spare you renting or buying office space. A garden room can cater for all types of businesses, including: home tutoring, music lessons, hair and beauty services, financial services, art studios, craft rooms and much more. Nowadays, a home office is a highly attractive selling-point since many more people choose to work remotely and need a quiet working space away from home distractions.
A Swift Build
Compared to a home extension or loft conversion, a garden room is much quicker and easier to build. At Crown Pavilions, we conduct a swift building process which, on average, takes 2-3 weeks to complete using traditional building methods. This means less disruption to your home life and to your neighbours.
Do you need planning permission to build a garden room?
In most cases, you do not require planning permission to build a garden room which means you can build your dream outdoor space without delay.
However, if you are looking to build a garden room that is either more than 2.5m tall, over 30m2 in area, designed for overnight accommodation or located on designated land, then you are usually required to apply for planning permission from your local council.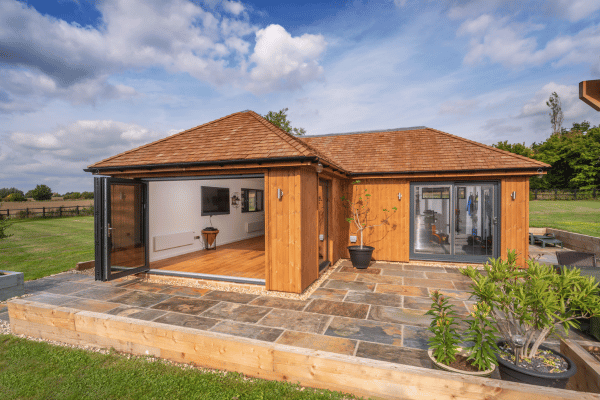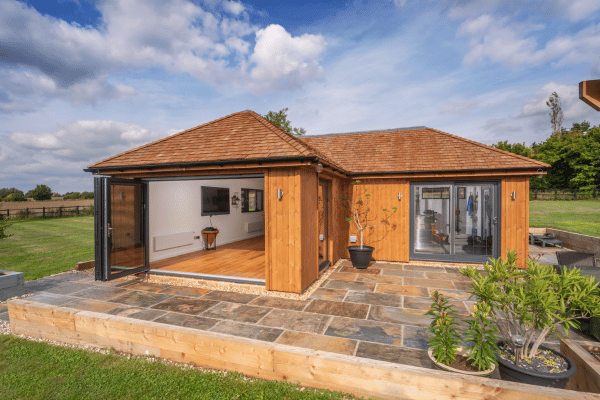 Likewise, you are only permitted to build a garden room which is less than half your garden space. When building over this size, you will require planning permission, too.
Find out more about planning permission regulations through our guide.
Practical planning for your garden room
When designing your garden room, there are a few things you need to consider in order to create the most aesthetically designed and functional room. Firstly, the placement of your garden room is important as you should ensure you get as much natural light as possible. Natural light is great to keep your garden room warm all year-round and keep heating bills low.
Another factor to consider is privacy. If you have nosey neighbours, you may choose to build your garden room facing away from other buildings to ensure maximum privacy.
One of the more practical considerations is the terrain of your garden. For example, without the right structural measures, such as decking, heavy rainfall with a sloped garden could result in potential flooding.
Fit your garden room with the finest windows and doors
At Crown, we provide a range of window options, including top-hung, full-height fixed windows or simple-opening windows. All of our windows are double-glazed and filled with argon gas for additional thermal and sound-proofing.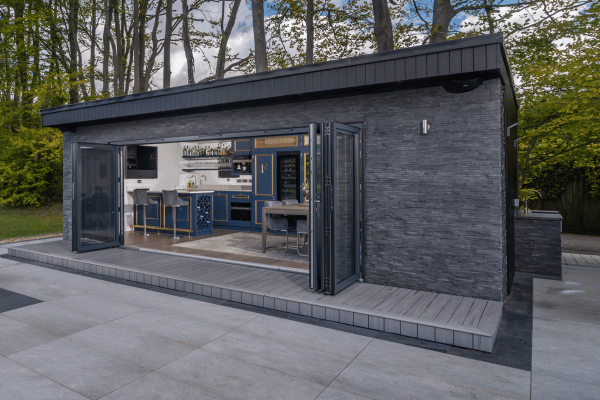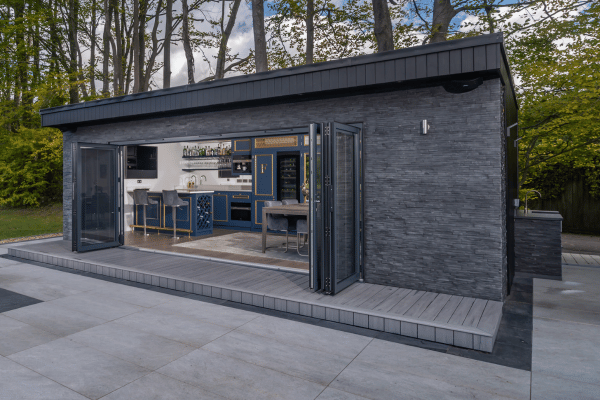 You can also take your pick from a selection of bi-fold, French or sliding doors, all of which provide ample light and optimal use of space. Our aluminium doors are made to last the test of time and are extremely low maintenance in comparison to timber alternatives which require regular varnishing and care.
All our garden rooms are fitted with residential grade locks and handles which are recognised by most insurance companies for added peace of mind.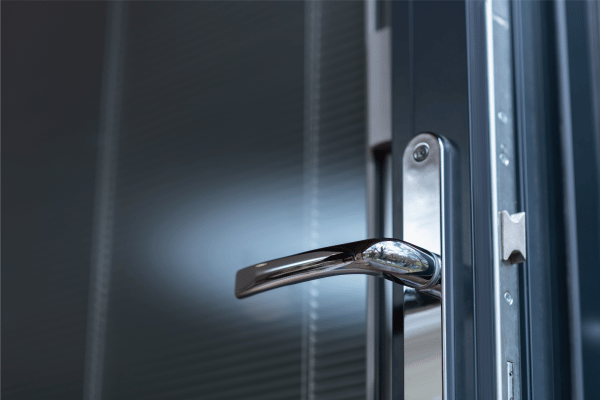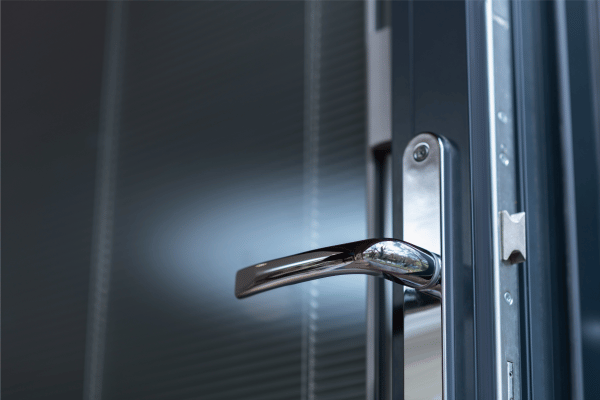 How much value does a garden room add to your house?
Several real estate experts state that a garden room can increase your home's value by 5% to 15%.
According to research by British high street bank, Halifax, the price per square metre of your property is valued between, approximately, £1,456 and £5,106, depending on where you live. The value per square metre is highest in areas such as London, the South East and East Anglia. Nonetheless, overall, nationwide, we are still seeing an upward trend in the value per square metre of property. So, what does this have to do with garden rooms?
A garden room provides both indoor and outdoor living space which counts towards the total area of your property. Therefore, a garden room can add significant value to your home and become a great asset when it comes to selling. Think of a garden room as an investment. For instance, if you live in London and build a 20 square metre garden room, you can potentially increase the value of your property by up to £102,120. As an example, the cost of our standard 5mx4m, Crown Sandringham garden room, would be £34,540 for the building, including the build. This does not include groundworks (foundations) or mains electrical connection which we always advise customers will be 15-30% of the building cost, depending on complexity.
Not to mention, a luxury garden room offers more than monetary value, boasting lavish appeal, versatility and flexibility. You can make your garden room your own, adorn it to suit you and make your property stand out from others in your area.
Remember, when it comes to marketing your property, make sure your estate agent doesn't understate the benefits of your garden room. Some estate agents estimate that garden rooms can increase the value of your home by 15%, so ensure your garden room is shown off to its full potential during viewings with prospective buyers.
Making additional income from your garden room
As well as serving as a valuable long term investment for your property, a luxury garden room can also provide a second stream of income on an ongoing basis. You can either choose to rent out your garden room permanently or advertise it as holiday accommodation online, using AirBnB for example. In this case, it is necessary to install a water supply, as well as necessary electrical features. When doing so, you must use a registered plumber and electrician so that you can be confident everything is compliant and meets the relevant safety requirements.
Please note that when planning to use a garden room for overnight accommodation, you will need to have planning permission and pass building inspection. Planning permission can sometimes be time-consuming however worth it in the long-run.
If you're looking to build a beautiful luxury garden room that will add value to your home, please get in touch with our team who will be happy to help you.
More helpful blogs
Garden Rooms vs Extensions
Garden Rooms Checklist
Garden Room Furniture and Decorating Ideas
FAQs
Is a garden room a good investment?
Several real estate experts say that a good garden room can boost the value of your home by up to 15%, representing a fantastic investment.
Do garden studios add value?
Any garden room is likely to add value to your home, so a garden studio is no different.
Luke Dejahang
CEO & Co-founder
Email: luke@crownpavilions.com