Are you looking to create more space in your home? Whether it's for work or play, garden rooms offer a practical alternative to a traditional home extension. Small garden rooms have become especially popular since they provide additional living space without costing a fortune or taking up too much room in your garden, and look great in any space – be that a snug fit in a bijou patioed plot or set among acres of land.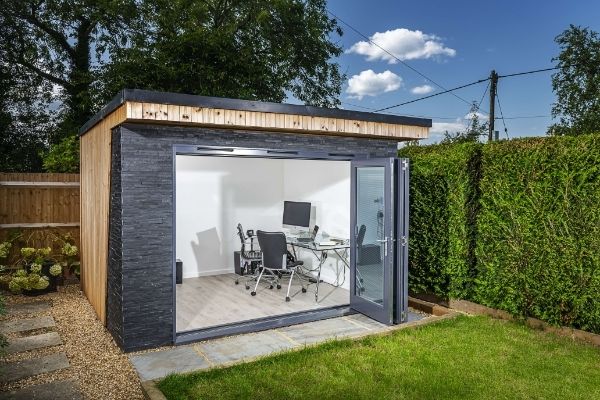 What is a small garden room?
A small garden room is a type of luxury outhouse, or extension, that is built separate from your home, providing you and your family with a little extra living space to use as you wish. Some of the most popular uses for small garden rooms include single-person offices, compact gyms and storage rooms. Built to exacting residential standards, a garden building offers a convenient and cosy escape from home life in the comfort of your back garden. Best of all, smaller builds are designed to slot seamlessly into tight corners and maximise your outdoor space.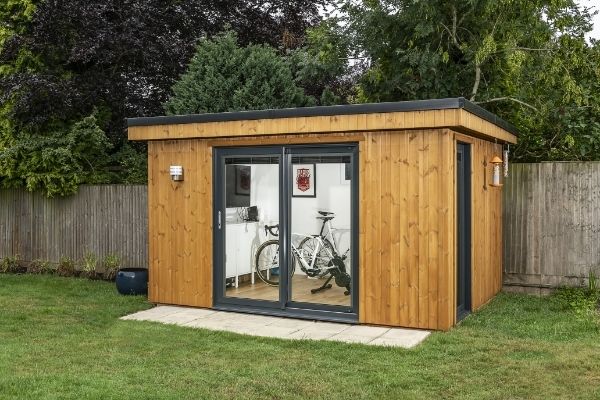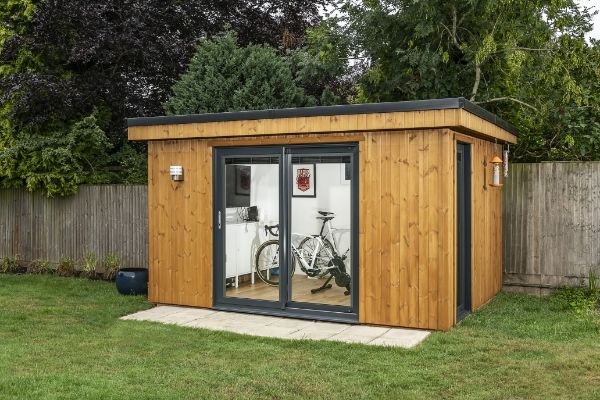 Why choose a small garden room?
A small garden room makes a great addition to your home, no matter what size garden you have.
Create a private room in your large garden
Small garden rooms aren't just for small gardens. A petite garden building can be tucked away into the nooks and crannies of larger outdoor spaces for some added privacy. For example, you may want a quiet office space built far away from your house to focus on your work or a secluded gym to let off some steam. Opting for a smaller model also enables you to use the majority of your garden for more traditional purposes, such as water features, outdoor furniture, flowerbeds or simply more lawn or patio area.
Maximise your outdoor space
With the right foundations and expert craftsmanship, a small garden pod can be built on uneven surfaces or in angular-shaped gardens, which would otherwise be classed as unusable space. At Crown Pavilions, our TRADA (Timber Research and Development Association)-certified team has over a decade of experience designing and building the finest luxury garden rooms, even in the most challenging spaces. Prior to the build, we conduct a site survey to determine the most suitable foundations and work with you to create a bespoke design that makes the best use of the available space.
Add value to your home
Small garden pods are becoming increasingly popular as more Brits choose to work from home and need a dedicated home office space. If you're looking for a unique feature to make your home stand out, a small garden room could be the perfect thing for you. Not only do they look spectacular but provide a comfortable space for all the family to enjoy, while also providing a beautiful point of interest for potential buyers if you decide to sell in the future.
The benefits of small garden rooms
Convenient: A garden room is built in close proximity to your home which means you have easy access to your personal space whenever you want. What's more, a luxury garden room is built with residential-standard insulation so you can enjoy your new build all year round.
Private: Built separate from your home, a small garden room provides a private space where you can relax and escape from the stresses of home life.
Versatile: From home offices and libraries to gyms and yoga studios, a garden building offers a blank canvas that you can furnish and decorate to suit any purpose.
Compact: A small garden room provides convenient living space in your home without taking up too much space in your garden.
Stylish: Garden rooms come in a variety of models to match your outdoor aesthetic. Whether it's a traditional timber build or modern slate exterior, we can work with you to design the perfect build for you.
The best small garden rooms
At Crown Pavilions, we have a selection of small garden room models to choose from.
Our Sandringham model is our classic design, featuring a timeless timber exterior and versatile rectangular shape. The Sandringham model comes in a range of sizes, starting from 4x3m up to 10x5m.
The Crown Clarence is our contemporary model which comes in a selection of modern exteriors, including striking slate slabs and exposed brickwork. Our Clarence model starts at 4x3m, all the way up to 10x5m.
Crown Casablanca
The Casablanca is our smallest combination garden room, featuring an entertainment area with an adjoining office, all in the same room and measuring a total of 4.5×3.5m.
Crown Boulevard
The Boulevard is the smallest model in our fabulous multi-room collection, enabling you to create two separate spaces within a small footprint of 5.5x4m.
We offer you the option to create an entirely bespoke garden room design to maximise your available space, be that a traditional rectangle, L-shape or even more intricate designs.
Is planning permission required to build a small garden room?
In most cases, you do not require planning permission to build a small garden room so long as your build falls within building regulations and permitted development guidelines. The main considerations include:
If you are building within 2m of a boundary, your garden room must not exceed 2.5m in height (including the roof) without planning permission. If your build exceeds 2m from a boundary you can go up to 3m in exterior height.
Overnight or self-containing living is prohibited without planning permission
Your building must not take up more than 50% of the total land surrounding your property
For more information, see our planning permission guide.
Why choose a Crown Pavilions garden room?
At Crown Pavilions, we are the leading provider of luxury garden rooms across the UK, specialising in residential grade timber garden buildings. Our garden rooms come with extras as standard, including foundations, electrical wiring, plus sockets, light switches, doors, engineered oak floors and lots more.
If you're interested in building a small garden room, browse our stunning collection or get in touch for more information.
Luke Dejahang
CEO & Co-founder
Email: luke@crownpavilions.com