Building a gazebo in your garden provides a secluded space to relax outside, enjoy some alfresco dining and host friends and family. A gazebo also makes a beautiful addition to your home, adding character, enhancing the luxury appeal of your property and flowing seamlessly into your outdoor space. But the real question is: does a gazebo add value to your home? In short, the answer is yes, a garden gazebo can add value to your home. Let's find out more about exactly how much value a gazebo can add and the factors that can affect this.
What factors can affect the value of a gazebo?
Although a gazebo doesn't add to the square footage of your property in the same way a garden room does, it can contribute to the overall value of your property. A garden gazebo can widen the appeal of your home to potential buyers and increase its resale value; however, there are a number of factors that can play into this including size, location, cost and the type of gazebo. Let's explore these further:
Whether you opt for a small, medium or large gazebo, the sizewill have an impact on how much value it adds to your home. However, remember bigger doesn't always mean better! It's important that your gazebo fits seamlessly into your garden, which means it must be proportionate to the space and match the surrounding aesthetic – you don't want your gazebo to dominate.
A small wooden gazebo can serve as an ornamental feature in a traditional garden or add character to a petite garden. That being said, if you have enough space, a large gazebo can look fabulous and offers a versatile structure for multiple purposes, such as a hot tub or BBQ area or a garden bar or dining area.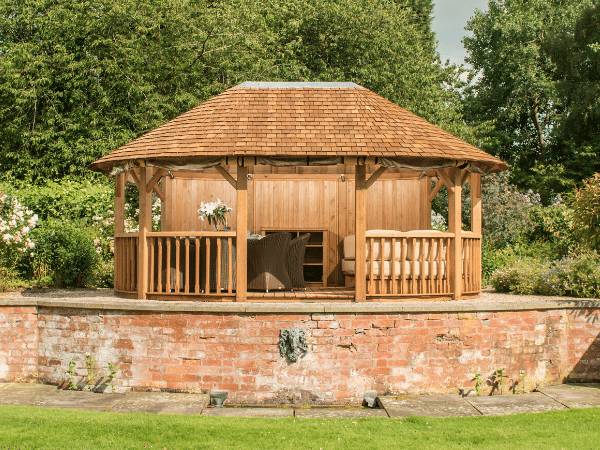 Where you're located could have a significant impact on the value a gazebo brings to your home. If you live by the coast in sunny Cornwall or Devon, for instance, a garden gazebo is a highly desirable feature to have in your garden for those looking to soak up the sun and enjoy the best of the British summer. It's even better if you have magnificent views from your garden, providing a peaceful backdrop to relax outside. Whereas, if you live in the heights of Scotland where the lowest average temperature barely reaches 2 degrees celsius, a gazebo isn't likely to appeal to many homebuyers.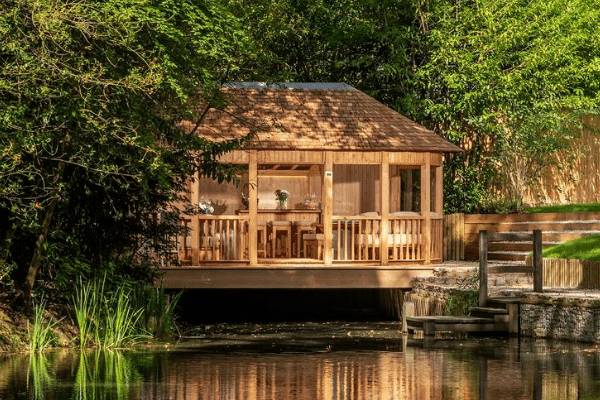 The cost of a gazebo will vary depending on the materials and craftsmanship used. Scrimping on quality will only cost you more time and money in the long-run. That's why we always recommend choosing a gazebo provider that uses high-quality materials and expert craftsmanship. At Crown Pavilions, all of our builds come with The Crown Marque of Excellence, which guarantees a superior-quality wooden gazebo, made using beautiful northern European Redwood for the main structure and Canadian Western Red Cedar for the roof.
In comparison to a wooden gazebo, a pop-up plastic or metal gazebo is poor-quality, flimsy and unappealing to the eye, and will likely need to be replaced every couple of years.
Wooden gazebos are one of the most desirable types of pergola, since they offer a classic design and require very little maintenance. Choosing a Crown Pavilions wooden gazebo means investing in the highest quality in outdoor living and benefitting from a luxury, British-made product that will last for years to come.
The demand for domestic outdoor structures is on the rise as an increasing number of homeowners are looking for a permanent space where they can cook, dine, relax and socialise. This includes pergolas, gazebos and pavilions. As such, incorporating a unique feature, and giving your gazebo purpose, can help boost its appeal. Why not install a hot tub shelter, carport or outdoor BBQ kitchen? The possibilities are endless.
How much value does a gazebo add to your home?
According to studies by Post Office Money, landscaping your garden can increase the resale value of your property by up to 77% – that's more than redoing your kitchen! This includes maintaining the lawn, planting flowers and shrubs, and incorporating more ornamental and functional features, such as a luxury wooden gazebo.
A Crown Pavilions gazebo starts at £8,250; a worthwhile investment that could see a significant return in the long-run, especially if you are able to set the scene for new homeowners and sell your property along with all the future memories to be made, such as al fresco dinner parties, romantic date nights or summer drinks with friends.
However, it's not all about creating value for future buyers but for yourself. When it comes to building a gazebo, you have full control over how it looks and can create a beautiful structure to project your style and add personality to your garden. Whether it's gazebo decorations or nifty upgrades, like hot tubs or BBQs, there are so many different ways to add a personal touch and create a functional space to complement your lifestyle.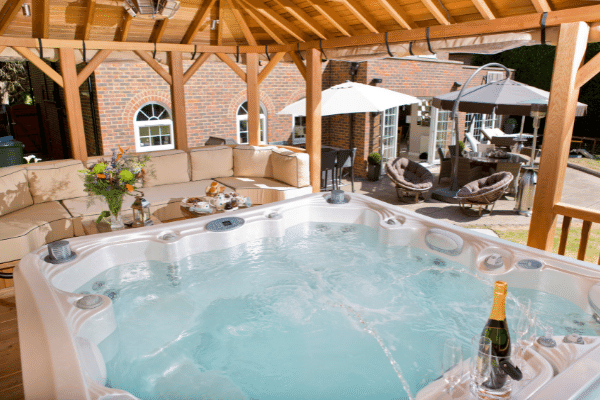 How to choose the right gazebo for you
A Crown Pavilions wooden gazebo is built with high-quality timber by expert craftsmen, and is engineered to last the test of time. We offer a selection of stunning gazebos, including smaller models (Rose, Chelsea, Tudor and Elizabeth), medium models (Guinevere, Edward, Wolsey, Ascot and Wentworth) and large models (Eden, Windsor, Orangery, Hampton and Versailles). We also offer the option to go bespoke and create a custom gazebo to suit you. And, with installation and delivery included, you can enjoy a hassle-free process from start to finish.
Browse our wooden gazebo range or get in touch with our team for more information.