At Crown Pavilions, we have over a decade of experience designing the most stylish garden rooms and bars in the UK. We're here to give you our top garden bar interior ideas to help you elevate your space and create the ultimate bar experience in the comfort of your own home.
1. Seating
When it comes to choosing the right seating for your home garden bar, comfort is key. You need to find a comfortable seating solution that is both stylish and suitable to accommodate all your friends and family. If you're looking for an authentic bar atmosphere, why not go for some chic timber bar stools or booths? For a less formal setting, cosy sofas and armchairs are another fabulous option.
2. Games & Activities
Create your very own pub sports room with all your favourite pastimes and games. Whether it's a snooker or ping pong table, darts board or mini football, a garden bar room makes for the perfect space for a night of fun while enjoying a drink or two.
You can also bring the pub atmosphere to life with a built-in wide screen TV and state-of-the-art sound system to watch the latest sporting events, too!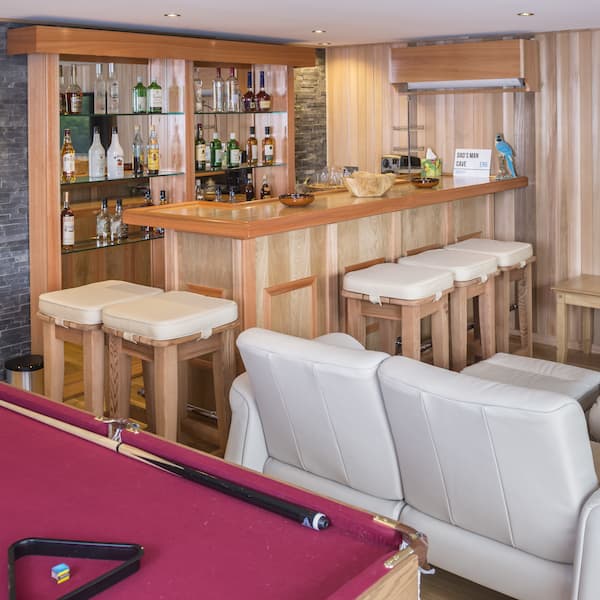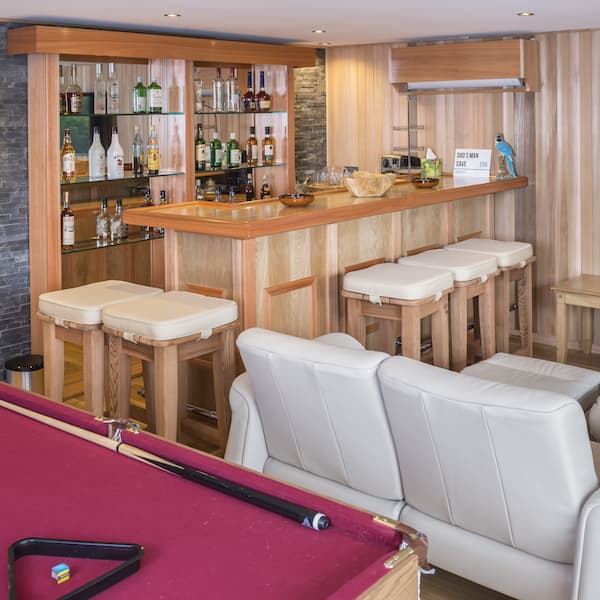 3. Cinema Lounge
Our beautiful multi-room collection gives you the opportunity to create a dual-purpose space in your garden. You can use your new space to create a home bar and cinema room to spend some quality time with your family. Next door, you can have a separate office space for when you need to focus.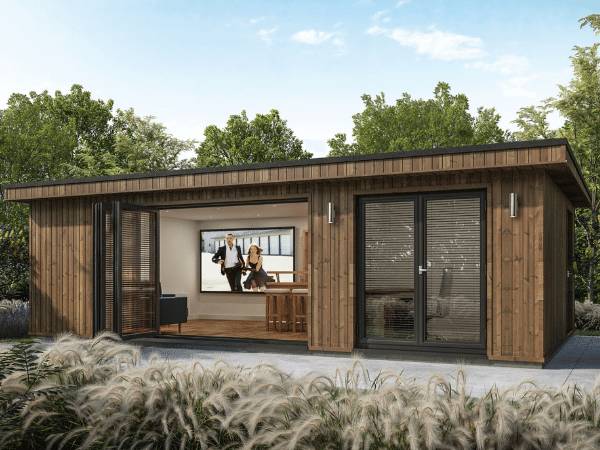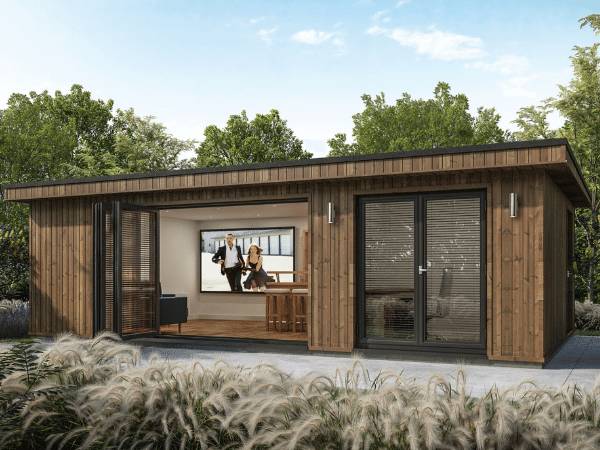 4. Hot Tub
Take your garden bar interior design to the next level and install a luxury hot tub enclosure. In the summer months, you can take a dip in your own private jacuzzi and enjoy your garden surroundings with a fruity cocktail in hand.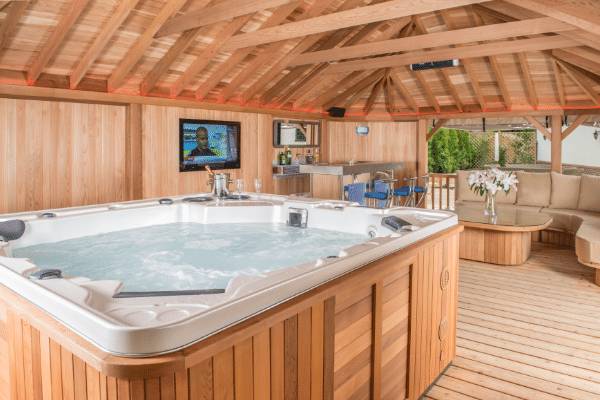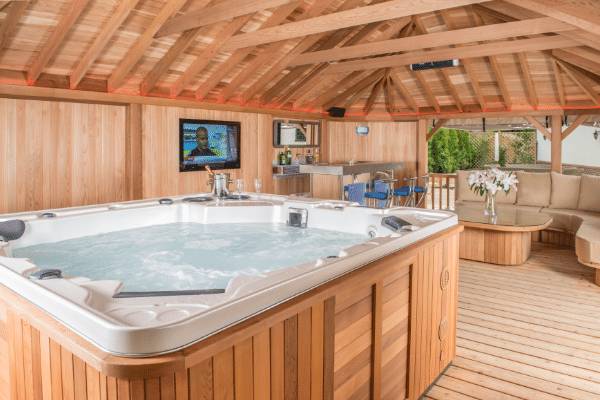 At Crown Pavilions, our bespoke garden gazebos and rooms accommodate a range of spa amenities, including Hydropool hot tubs, steam rooms and saunas. Our hot tub and bar garden rooms are built with weather-resistant materials and can be used all year round, rain or shine.
5. Outdoor Entertainment
Bring together the best of indoor and outdoor living with French or bifold garden room doors leading out to a stunning garden room deck.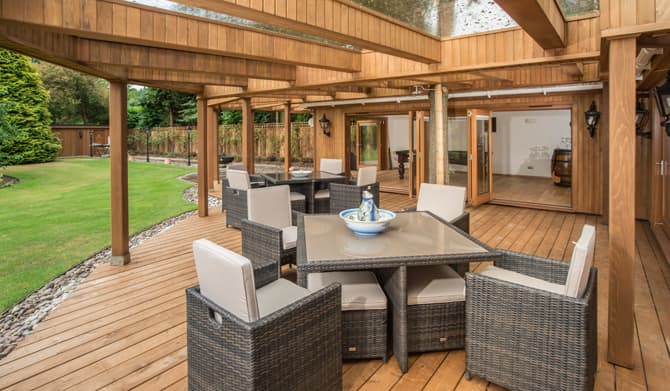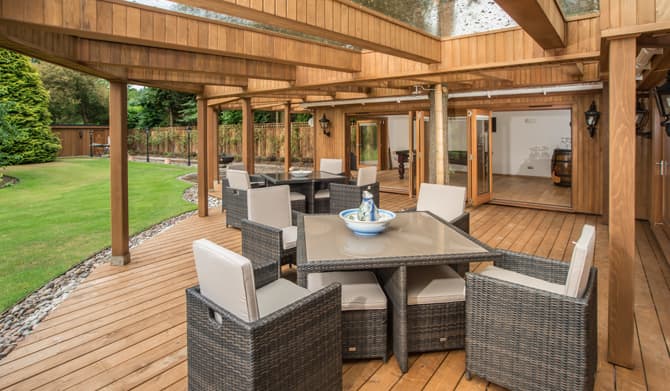 We offer a selection of additional upgrades for your garden bar design, including outdoor pizza ovens. Choosing a garden bar with decking means you can enjoy the British sunshine resting on a sunlounger, sipping on your favourite chilled beverage.
6. Drinks Display & Storage
A garden room bar would be incomplete without the drinks. For the lager lovers, beer on tap is a must-have and makes serving drinks quick and easy. Make a statement with a grand mirrored shelf behind the bar, stocked with all the finest liquor and glassware. There's no need to leave the house, when you've got the most sophisticated establishment in town.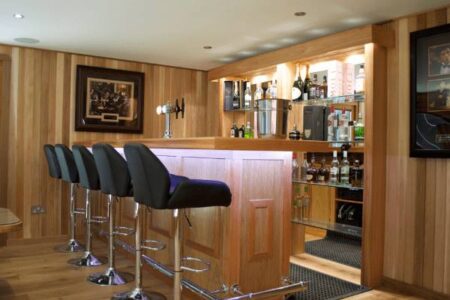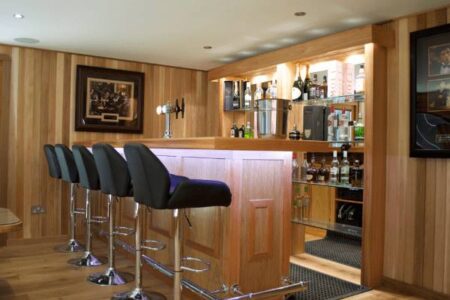 A garden room with storage also provides the ideal place to keep all your alcohol, similar to a wine cellar or beer barrel storage room – just the thing for hosting guests and stocking up for parties!
7. Garden Bar Decor
One of the best things about having a garden room bar in your home is you can design it exactly the way you want and truly make it your own. A Crown Pavilions luxury garden room bar comes with the option for additional fittings and furnishings to suit your style. We can help you install a choice of windows, floors, doors, lighting and custom furniture. Let your imagination run wild!
To find out more about building your own garden room bar, please get in touch with our team.
Luke Dejahang
CEO & Co-founder
Email: luke@crownpavilions.com