A sturdy roof is an integral part of the structure of your garden room, helping protect you and your belongings against the elements, while also providing added insulation. As well as having a functional purpose, a garden room roof can add character to your timber building, complementing your existing garden decor and architecture of your home. There are a number of different garden room roof options available, each offering a different aesthetic and protective properties.
From EPDM coverings and fibreglass to shingles and slates, we'll run you through the pros and cons of some of the most popular roof materials, and help you make the right choice.
EPDM Covering
Fibreglass Roofing
Wooden Tiles
Living Roofs
Artificial Grass Roof
Insulated Roof Panels
Slates
Tiles and Shingles
Thatched Roofing
Metal Sheeting
If you're after a flat roof for your garden room, an EPDM covering could be the perfect option for you. Otherwise known as Ethylene Propylene Diene Terpolymer, an EPDM covering is a thick rubber sheet that is commonly used for both commercial and garden buildings. This type of roofing is entirely water-resistant and designed with special kerbs to redirect rainwater to the gutter system, which helps prevent water build-up and leaks. Best of all, EPDM is typically made from recycled materials and has a lifespan of 50 years plus, making it an economically and environmentally-friendly option. Our EPDM rubber roofs are supplied and installed as a single continuous sheet. This is very important for longevity and to avoid potential leaks.
EPDM sheets are black/grey in colour and are not the most aesthetically pleasing choice; however, it is possible to cover the sheets with stones to better match your existing outdoor surroundings.
Fibreglass sheets are also a popular choice for flat roofs since they are waterproof, fire retardant, virtually maintenance-free and can last up to 30 years. Installed in one piece without any joints and with added drip trims, fibreglass ensures very low risk of leaks unless cracking occurs from harsh weather conditions.
Fibreglass comes in a variety of colours, including bright and dark shades, as well as metallic, smooth or ribbed finishes. This works well if you have a contemporary garden, but may not make a good match if you prefer more traditional landscaping styles.
Wooden tiles, in particular Cedar, offer unrivalled quality, including protection against wind and rain, insulation and stunning aesthetics for a traditional feel. Cedar shingles date back to the 19th century and can be found in National Park buildings across North America, as well as in many Scandinavian countries.
Cedar is a low-density wood, which means minimal shrinkage over the years, and a strong, reliable roof for your garden room for years to come. It is also a good insulator, helping keep your room warm naturally throughout the year. Moreover, Cedar has a beautiful red colour that ages gracefully to a silvery-grey. And, if this doesn't suit your taste, you can always apply a stain of your choice. Pair your Cedar roof with rustic Cedar cladding for a picture-perfect, traditional garden building.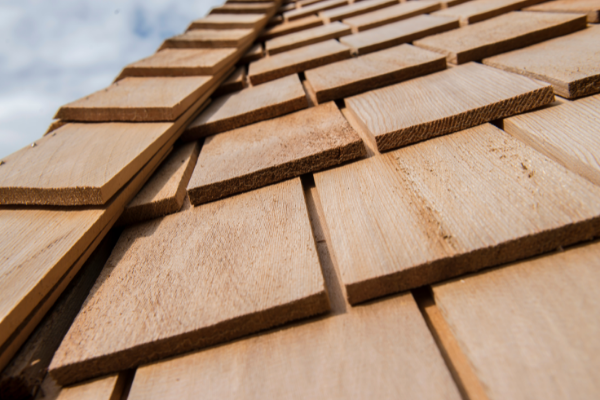 A living roof, also known as a green roof, is a roof that is covered with growing vegetation, soil, as well as an irrigation and drainage system. This is typically laid on top of a waterproof roof barrier, like an EPDM sheet for example.
Living roofs are fantastic insulators, helping keep your garden room warm throughout the year and help you save on heating bills, while also providing some noise insulation for added privacy.
When it comes to installing a living roof, you can sow the seeds yourself and wait for plants to grow; however, many people choose to lay down pre-grown turf to achieve their desired look from day-one. The great thing about living roofs is you can choose the types of plants you grow, be that colourful wild flowers to attract more wildlife to your garden or plain turf for a lower-maintenance, hassle-free option.
Whatever greenery you choose, a living roof will require some level of maintenance which may be costly in the long-run and will require easy access to the roof.
Alternatively, you could opt for an artificial grass roof that requires very little maintenance compared to the real deal, as you do not need to water it. However, since artificial grass roofs are made from plastic, they serve little environmental benefit and can accumulate dirt, which can give off an unpleasant odour over the years.
Coming in at a slightly higher price point than most roof types is insulated roof panels. These are large sheets made from a double layer of colour coated steel with insulation in-between that form both the interior ceiling and exterior roof layer. As such, this is a fairly simple type of roof to install. Note that it is important to do your research and choose the appropriate thickness to ensure that your room is well insulated.
Insulated roof panels may not be the best choice for larger builds since extra support may be required, resulting in visible interior beams. Likewise, you will be limited to wall-fitted lights or lamps since you cannot install ceiling light fixtures.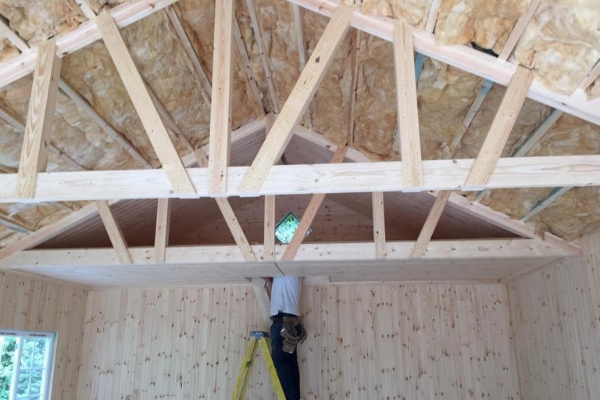 Authentic slate tiles are a premium option, not only for the raw material itself but you will also need a double layer to form a water-tight barrier and avoid leaks. Nonetheless, the dark grey colour of slate offers a beautiful and bold aesthetic to suit any modern outdoor space and is definitely worth it.
A more budget-friendly alternative are slate-effect roof tiles, which are almost indistinguishable from the real deal but are actually made from a mixture of recycled plastic and limestone. They are also much easier to work with and less fragile, saving you money on labour costs and preventing accidents.
One of the most common residential pitched roofs are classic overlapping shingles, also known as tile strips. Typically made from concrete or clay, opting for a tile roof offers endless possibilities to get creative; from Mediterranean roof styles to a classic British brick-red, you can inject your style into your garden room roof design.
Asphalt tiles also offer a durable and waterproof option, however, at a slightly lower price point. They come in a variety of colours, including black, blue, green, red and brown, yet may not offer the sophisticated, rustic look you desire.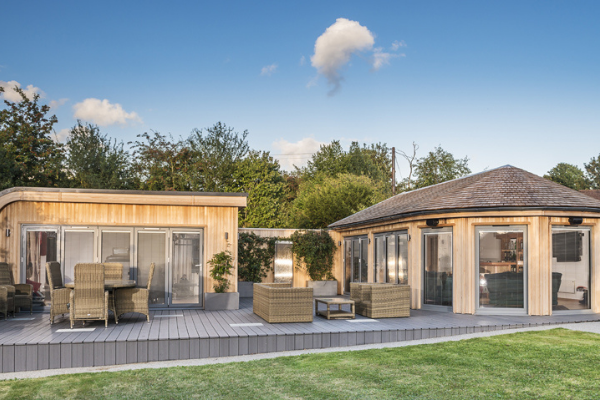 Boasting luxury country charm, thatched roofs are one of the most sought-after roof types available. Not only do thatched roofs look magnificent, but they also provide significant insulation for your building and are long-lasting, too. Just make sure you know what you're signing up for when you choose a thatched roof as they can require quite a bit of maintenance and may increase your insurance costs due to the fire hazard they can pose.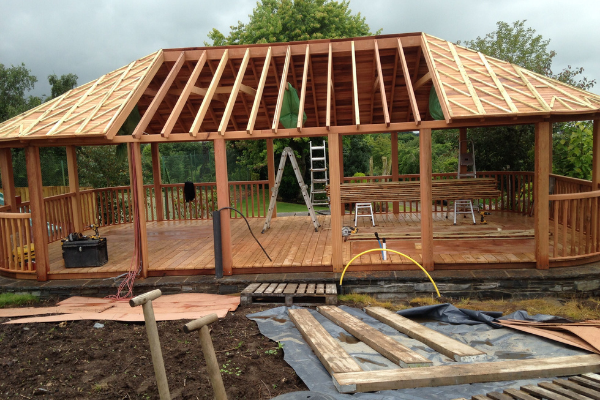 Originating from Scandinavian architectural design, metal roof sheets are another trendy garden room roof option that offer a sleek and polished look. Typically made using zinc, expert machinery is required to cut down the metal to size and install. Metal, particularly galvanised metal, is a fantastic choice for a roof since it is hard-wearing, fire-resistant and rot-proof. Some metal roofs are susceptible to rust over time, or scratches and dents, from falling debris from trees or nesting birds for example, making them difficult to maintain.
Roof Type
Pros
Cons

• Waterproof
• Lifespan: 50 years +
• Eco-friendly

• Only suitable for flat roofs

• Low maintenance
• Choice of colours and finishes
• Contemporary style
• Lifespan: up to 30 years

• Only suitable for flat roofs
• Risk of cracking

• Traditional look
• Durable
• Extra insulation
• Choice of stains
• Lifespan: 30+ years

• Expert installation required

• Noise and heat insulation
• Choice of plants
• Eco-friendly
• Lifespan: 50 years +

• High maintenance
• Expensive materials and maintenance

• Low maintenance
• Choice of plants
• Low cost

• No environmental benefit
• Lifespan: 7-15 years

• Noise and heat insulation
• Low labour costs
• Low maintenance
• Lifespan: 60 years+

• Not suitable for large buildings
• Expensive materials

• Chic look
• Low maintenance
• Contemporary
• Lifespan: 80+ years


• Risk of shattering
• High cost

• Chic look
• Low maintenance
• Versatile design
• Lifespan: 60 years +

• Risk of shattering
• High cost

• Luxury, country aesthetic
• Highly desirable for resale
• Lifespan: 15-25 years+

• High cost
• High maintenance
• Increase insurance
• Fire hazard

• Sleek look
• Resistance against rot, rust and fire
• Lifespan: 40+ years

• High cost
• susceptible to scratches and dents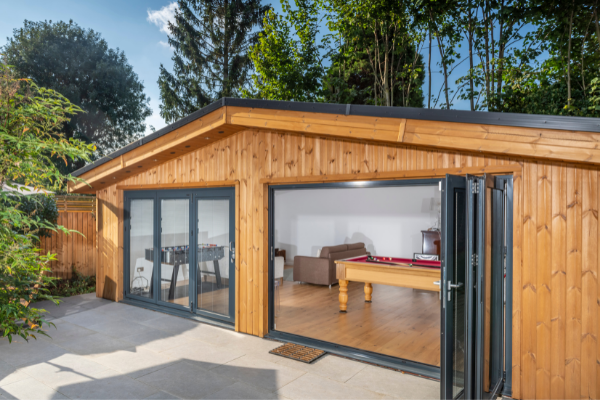 At Crown Pavilions, we offer a choice of two roofing options, either a hipped Cedar tiled roof or pent EPDM rubber. The rubber is supplied in a single piece resulting in zero joins, leakage or failure over time. The hipped tiled roof carries a 10-year guarantee and is constructed in the same way as residential house roofs. For more information, please get in touch with our team or browse our garden room collection, while to see more of our product range, explore our wooden gazebo collection.