Your Private Garden Bar AwaitsMaster CraftsmenWork With Our Design Team
The World's Finest Garden Bar Rooms
Imagine your own wooden garden bar room or cocktail bar lounge. If you love entertaining family and friends, an outdoor garden bar shed makes a glorious addition to your outdoor space. We will work with you to design and create your perfect outdoor garden bar.
UK's #1 Residential Grade Garden Rooms
20-years of British Craftmanship
Outstanding Durability
More Customisations as Standard
The Crown Marque of Excellence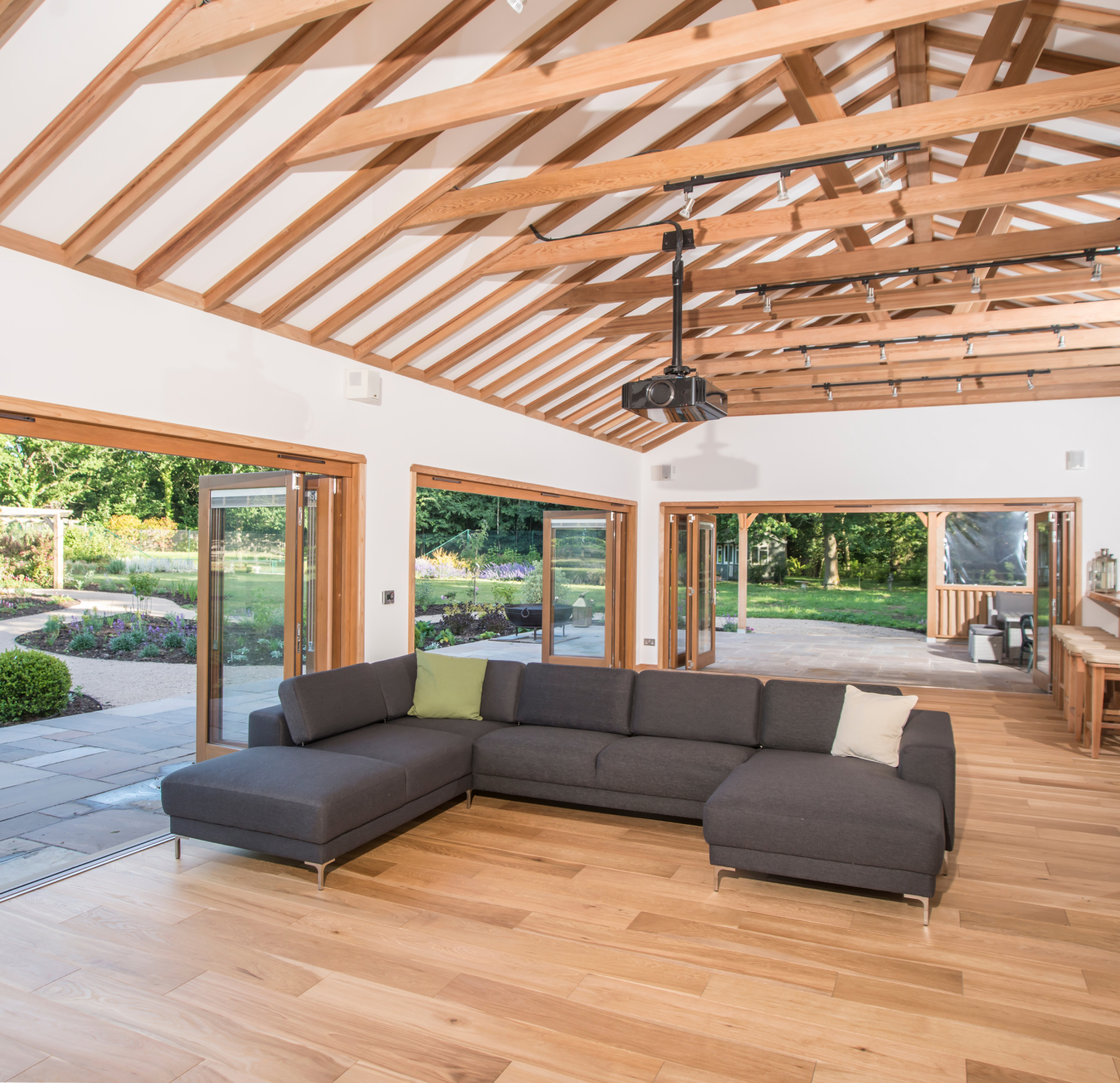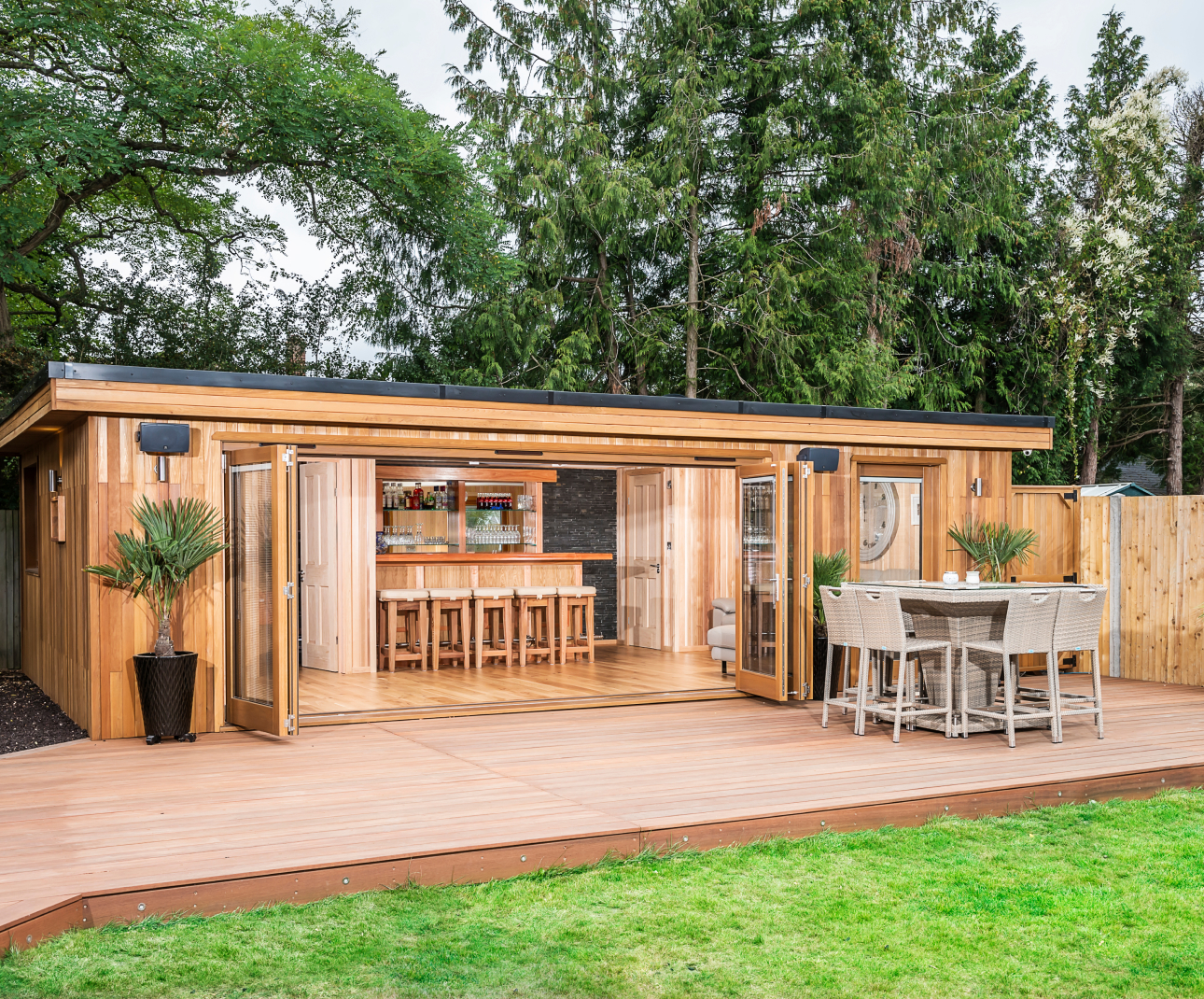 An outdoor garden bar can be designed to suit whatever your thirst desires. An old English-style pub with beer taps and dartboard perhaps, or maybe a gleaming craft beer space with your own personal favourites chilled and ready to enjoy? 
Why not consider a cocktail garden bar with all the accessories you need to bring out the mixologist in you? Or if your passion is wine, what better way to enjoy a glass of full-bodied red or a crisp, fresh white gazing out onto your garden any time of year.
A pub shed or wooden garden bar atmosphere is often best enjoyed with games. They could be video games played on our large TV screen, or perhaps a traditional billiards table is more your style? No matter how you choose to relax, Crown Pavilions designers will create a garden bar room to fit your lifestyle.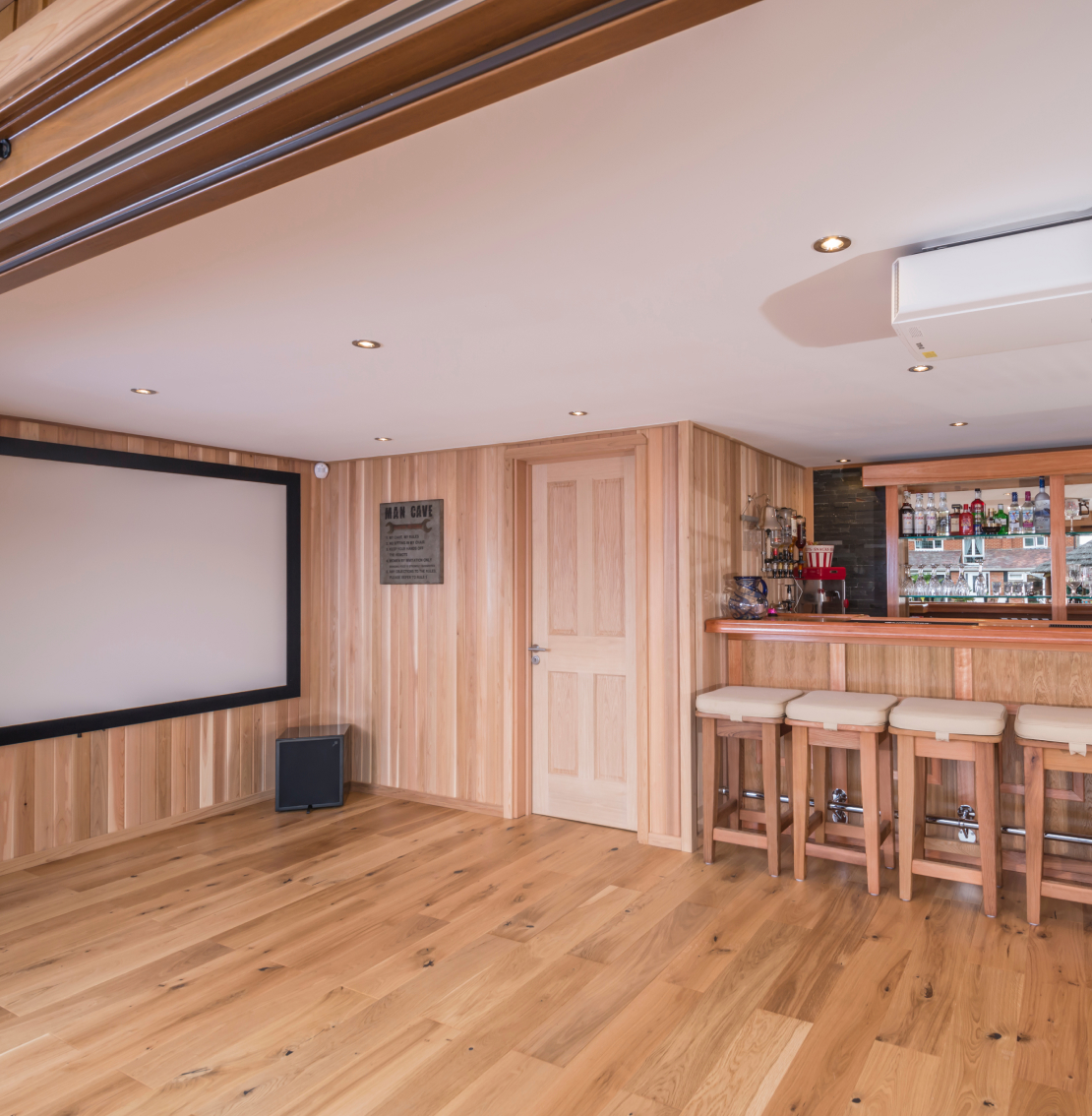 Garden Bar Considerations
Whatever your ideas and requirements, with 20-years of experience, our team is the best in business at helping our clients plan their luxury garden bar rooms.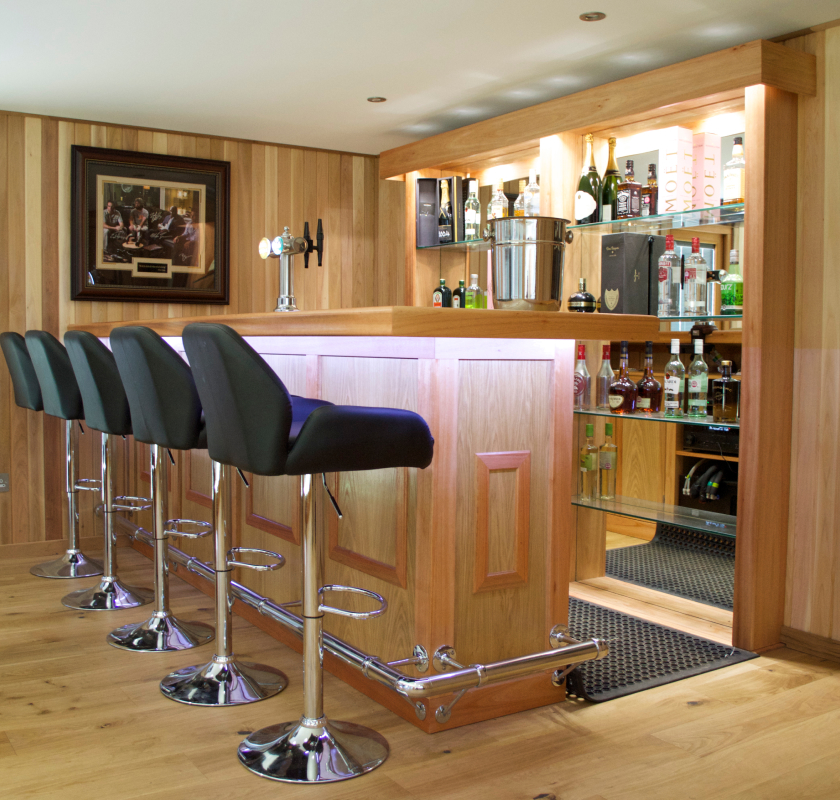 We will design your garden bar room to provide the utmost in comfort, luxury and enjoyment. From the easy curves in all our design structures to smooth padded bar stools or sumptuous armchairs in a lounge area.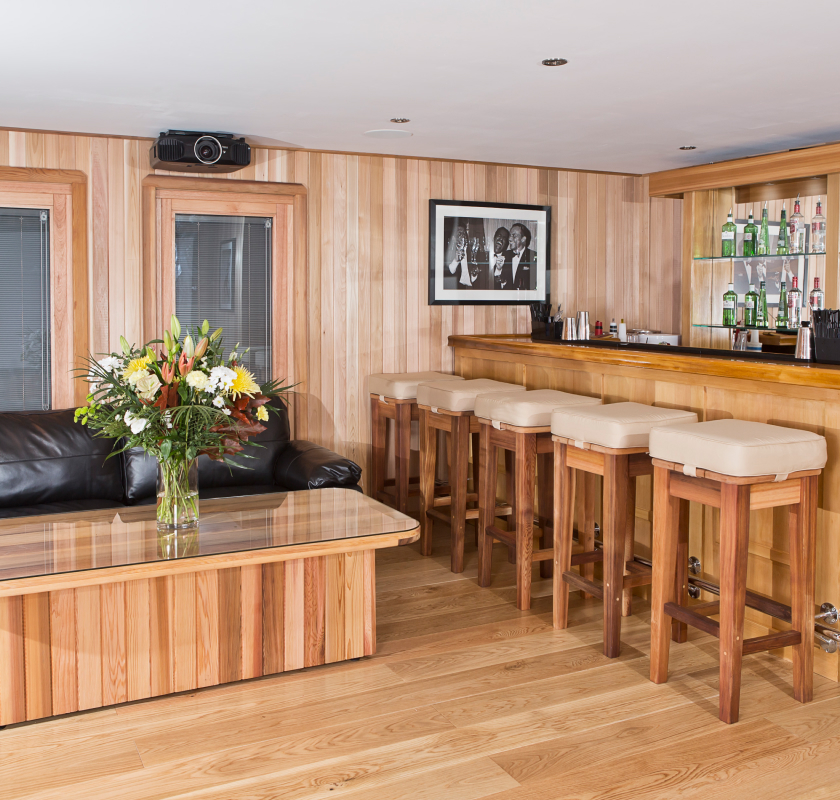 Our garden bars can come fitted with an integral dishwasher, a wine-cooler and a sink. We can even build a bathroom and w/c into the plans!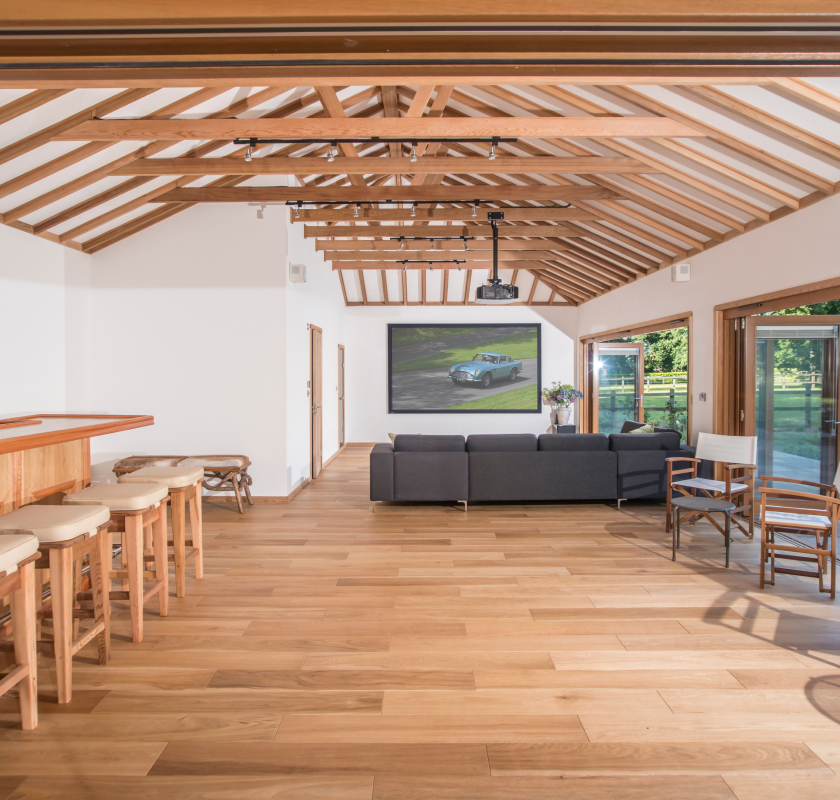 We've built many luxury garden room bars over the years. In fact we have master creaftmen dedicated to it.  We can build a full-size luxury bar or a smaller corner bar or mini bar if you are working with a smaller space.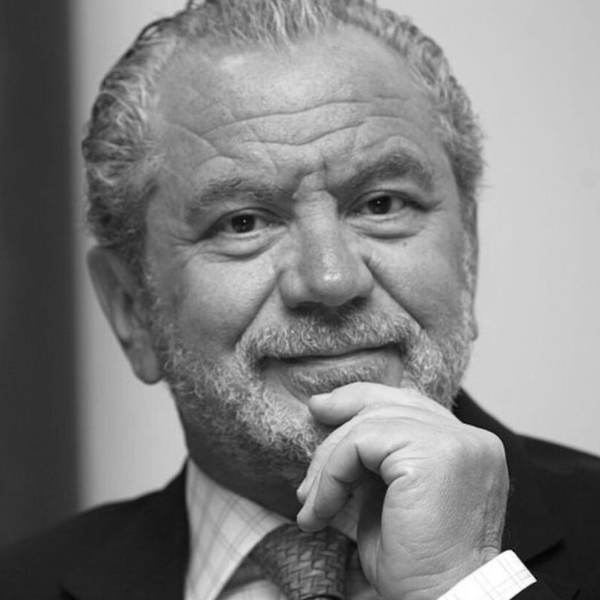 Lord Alan Sugar – Entrepreneur
"After looking at numerous garden rooms and luxury wooden gazebos on the market we decided to go with Crown Pavilions as their buildings are undoubtedly the best that money can buy and the service level was exceptional. They exceeded our expectations at every stage. If you are looking for the best garden buildings on the market, then Crown Pavilions is the company to hire!"
Lord Alan Sugar – Entrepreneur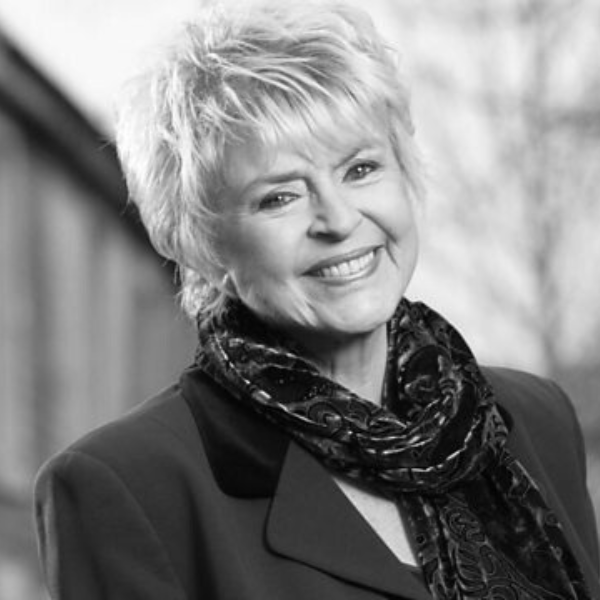 Gloria Hunniford – TV and Radio presenter
"When I first saw this pavilion I thought it was just ace. It was the best we had seen, it was exciting. In fact just sitting in the pavilion now, I'm excited. Even though this is a building outside in your garden it's still very luxurious, but yet multi-functional. Particularly for us, alfresco dining is such an important part of our life and to have this lovely round table and its curves matching the curves on the pavilion is just perfect."
Gloria Hunniford – TV and Radio presenter
Duncan Bannatyne – BBC's Dragons' Den
"I love the Crown Pavilion; we have just had our second installation in Darlington. The first one was at our Hastings hotel four years ago and it has weathered beautifully. They both look fantastic. The team were amicable, efficient, they turned up on time, got the job done, just a great company to deal with.I would certainly recommend Crown Pavilions."
Duncan Bannatyne – BBC's Dragons' Den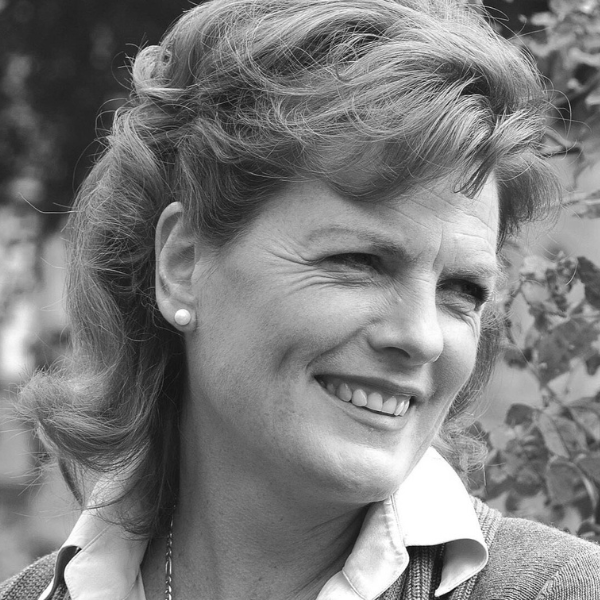 Her Grace The Duchess of Rutland
"The management of The Park at Belvoir Castle inspired me to look at traditional garden buildings. Crown Pavilions create beautifully crafted pavilions that reflect the best garden architecture the world has to offer."
Her Grace The Duchess of Rutland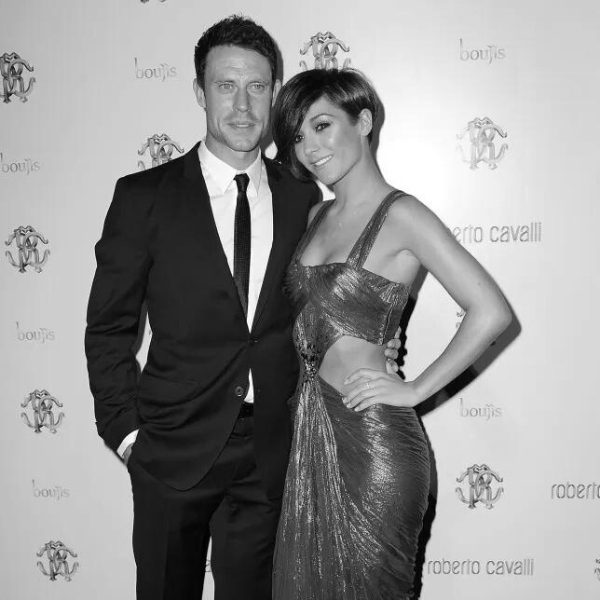 "We had heard that Crown Pavilions were the best in the biz for building the perfect garden accessory. They turned up with minimum fuss and we barely even knew that they were there! From start to finish, they offered an amazing service and were extremely professional. Highly recommend!"
Frequently Asked Questions
Take the next step in your journey
Get inspired by perusing our brochure and then visiting one of our showsites to talk to our friendly and knowledgable team.