A gazebo provides a decorative and protective cover for your hot tub, keeping it safe against the elements and allowing you to kick back and relax, anytime of the year. Not to mention, it also provides a beautiful, ornamental piece of architecture for your garden. Check out our top hot tub gazebo ideas to help you enjoy a relaxing spa experience in the comfort of your own home and impress your friends and neighbours.
1. Incorporate Wood Into Your Design
Wooden gazebos or pergolas are the ideal choice when it comes to creating an enclosure for your hot tub. The organic look of wood flows seamlessly into your natural garden surroundings, and offers a timeless and elegant aesthetic for a relaxing home spa. At Crown Pavilions, we build our luxury hot tub gazebos using the highest quality European Redwood that will look stunning for years to come, and includes a 10-year timber warranty for added peace of mind.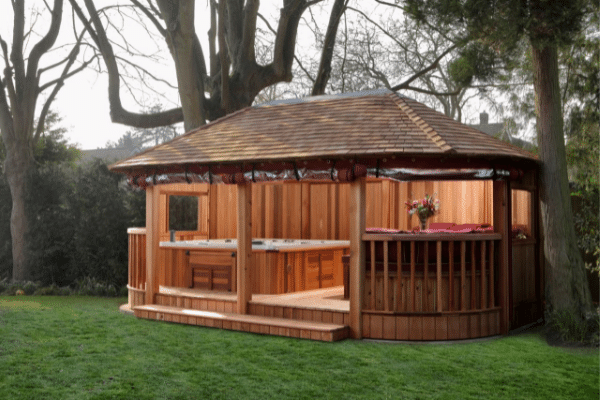 When deciding on the shape of your hot tub gazebo, you'll need to take into account the shape of your space and surrounding garden features. If you're working with a smaller area, we recommend going for a round style gazebo, such as the Crown Wentworth or Ascot, to create a cosy hot tub enclosure without overcrowding the available space.
If you have more space to work with, you could go for a larger, square shaped gazebo, such as the Crown Eden or Orangery, which can take centre stage in your outdoor space and act as a focal point for your garden.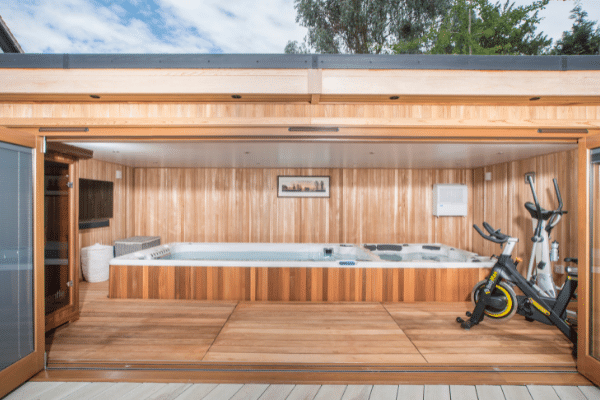 The positioning of your garden gazebo is just as important as the shape and size. If possible, choose somewhere with the best view and out of sight of your neighbours windows, so you can enjoy peaceful scenery without watching eyes. It's also a good idea to avoid the shadows and go for a bright spot in your garden, so you can enjoy some British sunshine every once in a while.
Opt for an exposed-side model that will also provide an uninterrupted view of your surroundings.
5. Install a Privacy Screen
Install a privacy screen so you can enjoy your hot tub in peace and keep your nosy neighbours at bay. There are a variety of screen options available to you to suit your style. Some of the most popular styles for a traditional garden include rustic rattan woven screens, natural willow, bamboo fencing or a wooden trellis. For something a little more modern, why not go for a painted wooden or patterned metal screen?
Go for an open-sided gazebo design with a sun shade to prevent harmful UV light reaching you in your hot tub. Sun shades are also beneficial to keep your hot tub clean, catching any falling debris and leaves from the trees above. There are a number of roof ideas for hot tubs you could go for, but at Crown Pavilions, our hot tub shelters are built with a cedar capped roof using premium weight, quality lead which are engineered to never leak.
Curtains or drapes can add a sophisticated element to your hot tub enclosure, however, they can be high maintenance and difficult to clean. If you're looking for a more sleek and low-maintenance design, blinds could be another great option, but make sure you choose a quality material that will withstand harsh weather conditions.
At Crown Pavilions, we offer superior-quality blinds made from marine-grade PVC that does not shrink, fade or lose its waterproof coating whatever the weather throws at it. This means you can enjoy your hot tub anytime of the year, rain or shine.
Another fabulous idea for your hot tub shelter is to add a pop of greenery. After all, studies show that immersing yourself in nature can help improve your mood and reduce stress – perfect for kicking back in your hot tub. You can add hanging planters or let climber plants grow into the structure of your gazebo, such as vibrant violet wisteria or sweet-smelling honeysuckle.
9. Lay down decking, tiles or flagstones
We recommend laying down wooden decking, a tiled patio or flagstones. Not only will this help your wooden structure blend into its surroundings, but can also extend the use of your gazebo, for garden furniture or an outdoor kitchen for example.
Building decking or installing your hot tub gazebo on a platform is also a fantastic, low-effort option for anyone with an unlevelled garden.
Furnish the space with sun loungers, outdoor dining tables and chairs to relax in the sun or enjoy some alfresco dining. There are so many different outdoor furniture styles, from modern rattan and glass designs to more traditional wooden finishes.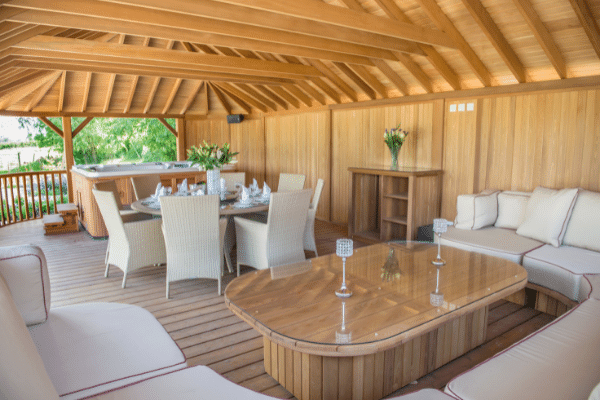 What better way to tie everything together than with ambient lighting? Hang up magical string lights along your wooden gazebo for a warm glow or candle-lit lanterns to set a relaxing mood. If you're looking to make a statement and take your lighting to the next level, go for a rustic stone fire pit which doubles up as a lighting solution, heating and charming garden feature.
Transform your hot tub area into an entertaining space and install a custom garden bar, complete with all your favourite drinks. Whether it's fresh, minty mojitos in the summer or a warming Old Fashioned, enjoy your favourite tipples as you soak away the stresses of the day or host the hottest hot tub parties in the neighbourhood.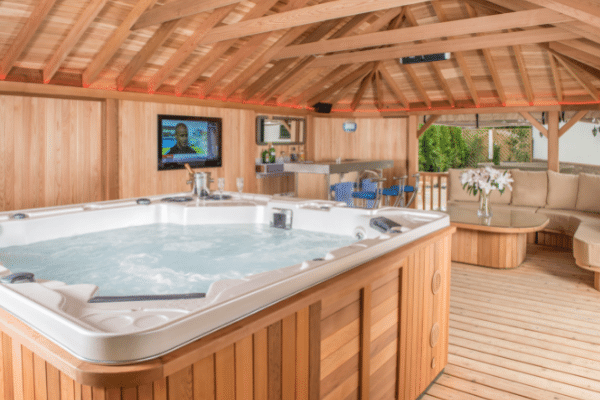 13. Entertainment systems
Install the latest state-of-the-art entertainment systems and enjoy your favourite music, TV programmes or sports from the comfort of your hot tub. From waterproof surround sound systems to projectors and flat screens, our team can help you create your dream hot tub entertainment gazebo.
Elevate your hot tub and create a more elegant space by installing hot tub side panelling. Choose a material to match your gazebo and garden furniture. We recommend using wooden panelling for a sleek, sophisticated look that is also easy to install and maintain.
15. Create a multi-purpose space
Go all out and create a multi-purpose hot tub gazebo for dining, entertaining and more. Our larger models are perfect for this, such as the Crown Versailles (8x5m), or go completely bespoke for a blank canvas to design your very own luxury outdoor living space. At Crown, we offer built-in dining benches, sofas, stools, dining tables for a seamless and functional finish. Remember to incorporate outdoor heaters for year-round use. Check out our bespoke gallery for some inspiration.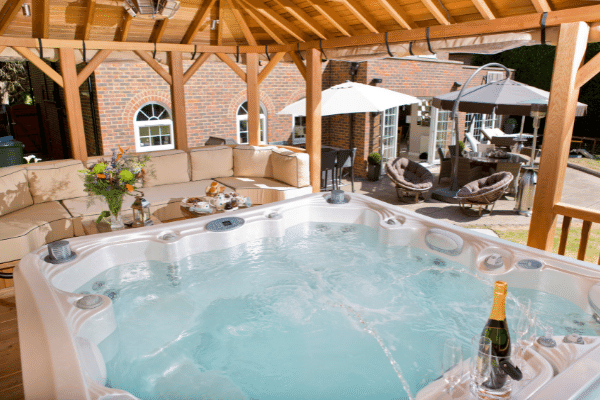 16. Add a touch of luxury
If a garden gazebo wasn't luxurious enough, there are a few more decadent touches you can add. One lavish idea for your hot tub enclosure is to build the ultimate home spa. Go for our Buckingham garden room model, complete with covered gazebo area for your hot tub and an insulated room, perfect for a sauna, steam room or meditation room.
Make sure to display some designer art sculptures, white rolled towels, your favourite ELEMIS products and, perhaps, some marble finishings to mirror a luxury spa experience at home.
If you're looking to build a hot tub gazebo in your garden, browse our stunning range of hot tub shelters, or get in touch with our team for more information.