What is Cedar cladding?
Best known for its unique red-brown colour, Cedar cladding is one of the most popular choices for cladding in the UK. Aside from its magnificent colouring, Cedar provides additional structural stability for your garden building and protection against wind and rain. At Crown Pavilions, our garden rooms are handcrafted using the finest quality Canadian Western Red Cedar cladding that flows into your garden surroundings seamlessly.
Why is cedar cladding a good choice for a garden room?
There are many benefits to choosing a Cedar clad garden room over other types of timber, including:
Aesthetics
Cedar is a vibrant red colour that matches the organic surroundings in your garden and looks spectacular. Best of all, as Cedar ages, it weathers down beautifully into a grey-brown colour that looks just as sophisticated. However, if you wish to preserve the red tones in the wood, it is possible to slow down the ageing process with timber treatments and stains.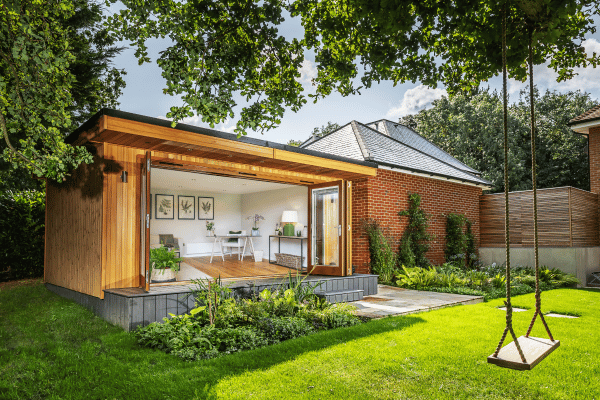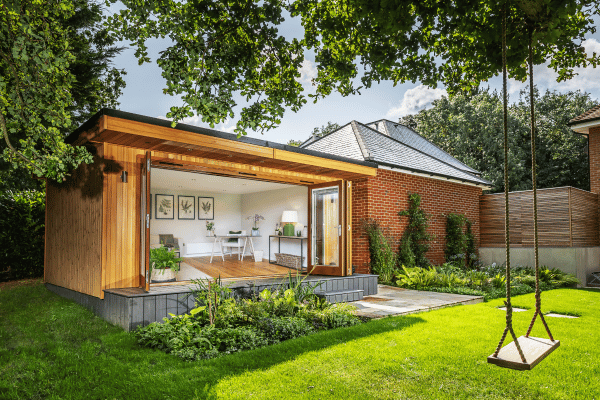 Durability
Cedar is a durable timber that provides protection against whatever the British weather throws at it, be that sleet, snow or hailstones. And, with the right wood treatment and maintenance, Cedar can last for decades.
Stability
Cedar has very few knots which means very little water is able to penetrate the surface which prevents the timber from expanding and shrinking, which could affect the structural integrity of your build. In fact, Cedar is one of the most stable softwoods out there.
Lightweight
With low density, Cedar is lightweight and easy to work with. This makes it a great material for building garden rooms and helps ensure a quick installation process.
Versatility
If you're looking for something a little bit different, the natural texture of Cedar provides a great base for paints and stains. Just remember to properly prep and prime your wood prior to painting to ensure the paint does not interfere with the natural oils and cause paint to bleed through. Choose from a range of colours and create a one-of-a-kind garden building, including Forest Green, French Blue, Olive Green, Dove White, Midnight Black and French Grey.
Value
When you decide to invest in a garden room, you need to make sure you're getting the highest quality product that will stand the test of time and provide long-term value to your home. Cedar is a highly desirable and stylish choice for your garden room that is long-lasting and higher quality than synthetic materials and most other softwoods.
Types of Cedar cladding for your garden room
Canadian Cedar cladding
Canadian Cedar is a premium quality cladding that has been used throughout history to build timber homes. Virtually free from knots and with a consistent grain, Canadian Cedar offers a chic aesthetic and provides excellent protection against water damage. At Crown Pavilions, we use only the highest quality Canadian Cedar cladding to offer the ultimate luxury and live up to our exacting standards.
British Cedar cladding
British Cedar cladding is a cheaper alternative to Canadian Cedar which is both lighter in colour and contains more knots within the grain. This makes it less desirable as a building material since the knots can let in more water, leading to increased risk of rot and decay.
Composite Cedar cladding
Made from a combination of plastics and wood chippings, composite Cedar cladding offers a faux-timber look and requires less maintenance than the real deal since it is less likely to rot or splinter.
Cedar cladding arrangement
Choose either vertical or horizontal arrangement of cladding panels, or a mix of the two for a more quirky look. Speak to our design experts to find out what other patterns you can create with different shape and size Cedar boards.
Crown Pavilions Cedar cladding
At Crown Pavilions, our luxury garden rooms are handcrafted by our TRADA (Timber Research and Development Association)-certified team using Canadian Western Red Cedar. Our Cedar clad garden rooms are durable and resistant to moisture, making the perfect choice for outdoor living. All of our timber is FSC and PEFC meaning you can trust that it's responsibly sourced and environmentally-conscious.
What type of cedar clad garden rooms do we sell?
We sell a range of cedar clad garden rooms, including: