A luxury wooden gazebo can be a beautiful addition to your garden. They can be used for so many things, from alfresco dining, lounging and entertaining, to a tranquil workspace or a quiet space for the kids to do their homework. With marine grade side-blinds and heating upgrades, they provide a warm and comfortable space to enjoy your garden more often, any time of the year. They also come fully-furnished with a timber dining table, seating benches and a choice of luxury, marine-grade soft furnishings which conveniently can be left outside year-round. Read on to discover our full list of inspiring garden gazebo design ideas that will add a touch of luxury to any garden.
1. Small Wooden Gazebos
A small luxury gazebo will accommodate up to 4-8 people depending on the model. They are perfect for enjoying a morning coffee and a read of the papers, late afternoon cocktails on a summer's afternoon or intimate family dinners. With a compact footprint of 4-8m squared, a small luxury gazebo can tuck neatly into most small and medium-sized gardens. Style-wise, you have a choice between a circular building with a single entrance or an octagonal building with two entrances.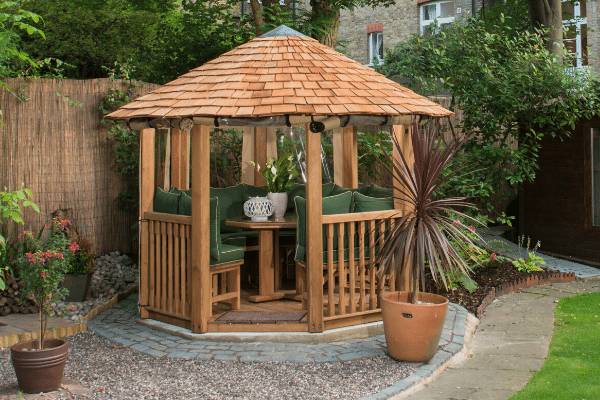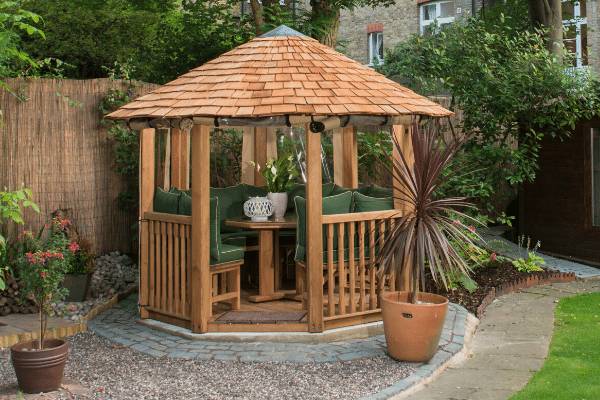 2. Medium Wooden Gazebos
A medium-sized luxury wooden gazebo will accommodate up to 8-14 people depending on the model. One difference from the smaller gazebos is the added space for lounging in select models, along with the inclusion of the much sought after oval-shaped buildings. These buildings are 9-13m squared, and while a step up in size, they are still suitable for most garden sizes.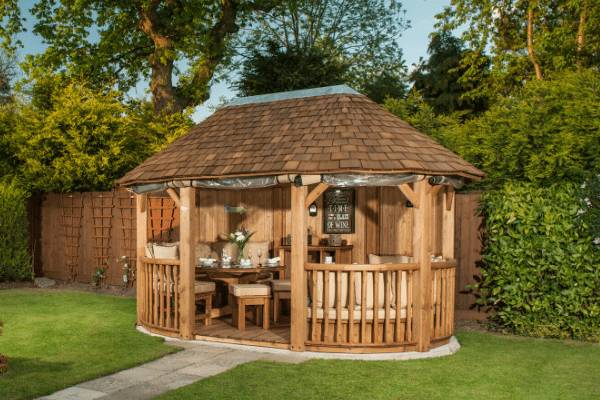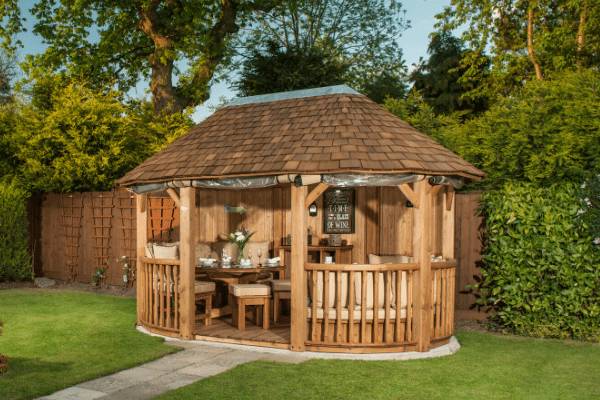 3. Large Wooden Gazebos
These are the very pinnacle of luxury outdoor living. Designed for medium and large-sized gardens, large luxury wooden gazebos are designed with alfresco entertaining firmly in mind. Accommodating up to 10-15 people depending on the model, these buildings range from 18m -24m squared in size and are available in rectangular and oval designs. You can also take advantage of the full range of upgrades with this category, including hand-crafted timber wine cabinets and wood-fired ovens.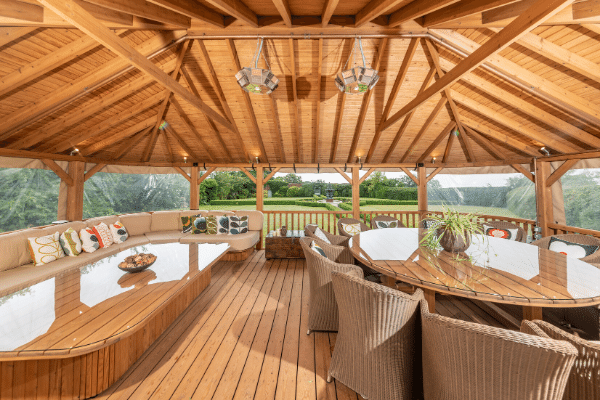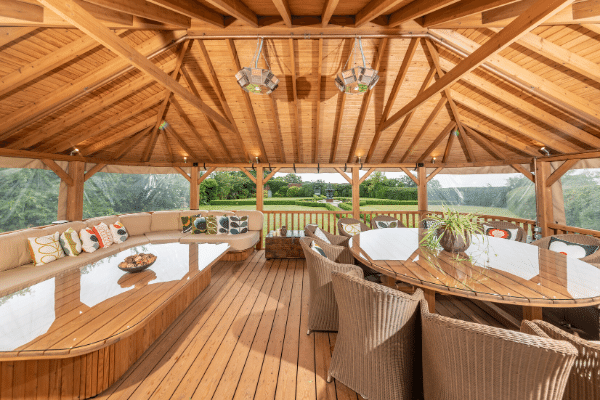 4. Wooden Gazebos for Cooking
The beauty of a larger luxury wooden gazebo is you can take advantage of the extra space and upgrade with a wood-fired oven, adding a fun alfresco cooking and dining experience to the list of uses for your gazebo. Make delicious pizzas in minutes or even roast meat and fish to perfection. A wood-fired oven can be combined with a flue to draw smoke up and away from your dining area and also comes with an attractive granite countertop, timber cabinet and mirrored shelves.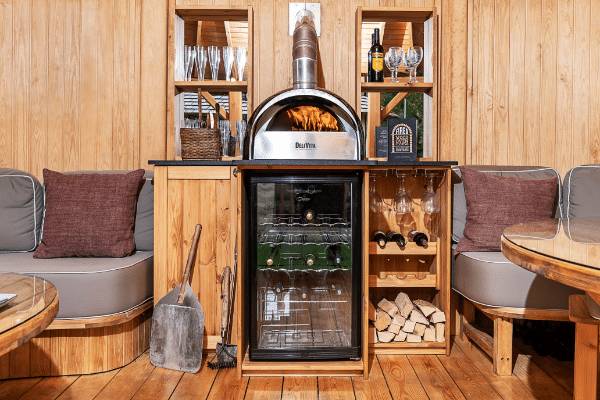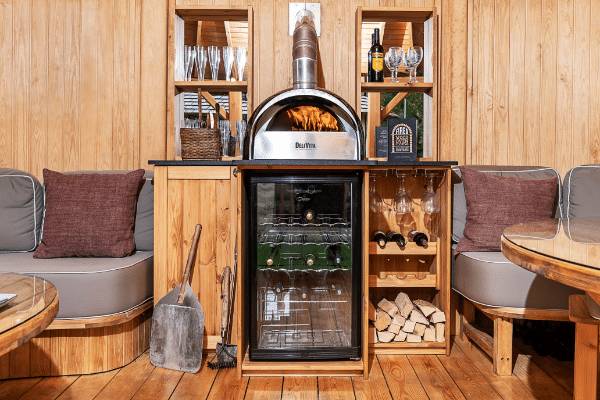 5. Thatched Wooden Gazebos
The roof of a luxury wooden gazebo is a leading design feature as it's often the first part of the building you see when you walk outside. There are two distinctive roof styles: the classic cedar-tiled roof and the more exotic thatch roof option. Over and above the obvious aesthetic difference, there are practical considerations to keep in mind. A thatch roof will likely need more frequent care and attention, and may also need to be re-thatched after several years. You can always contact our team or visit our thatched gazebo designs for more information.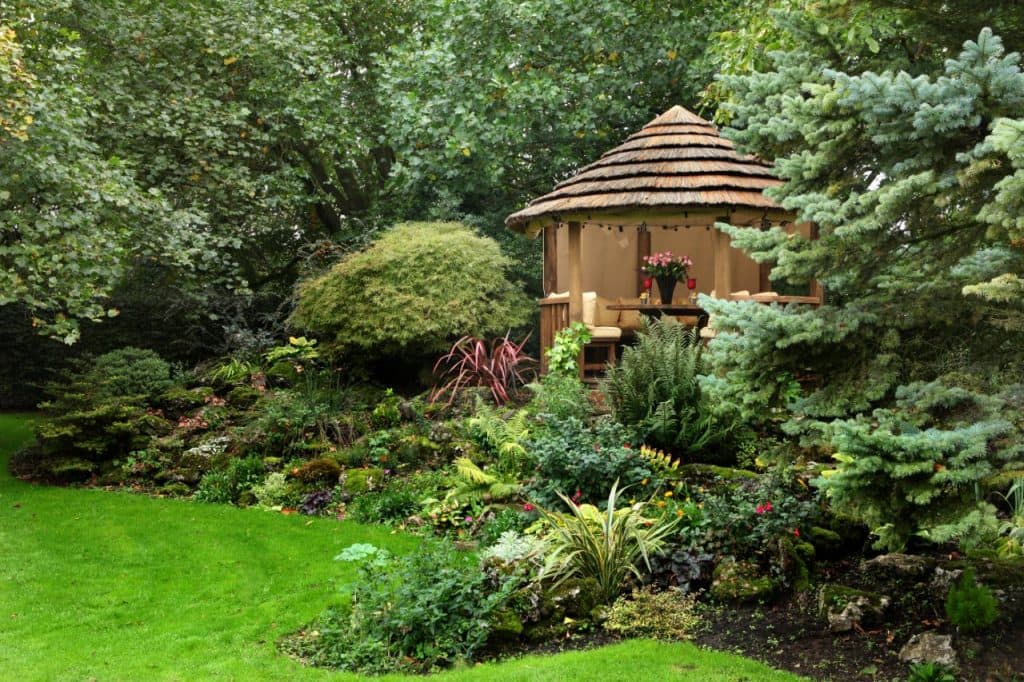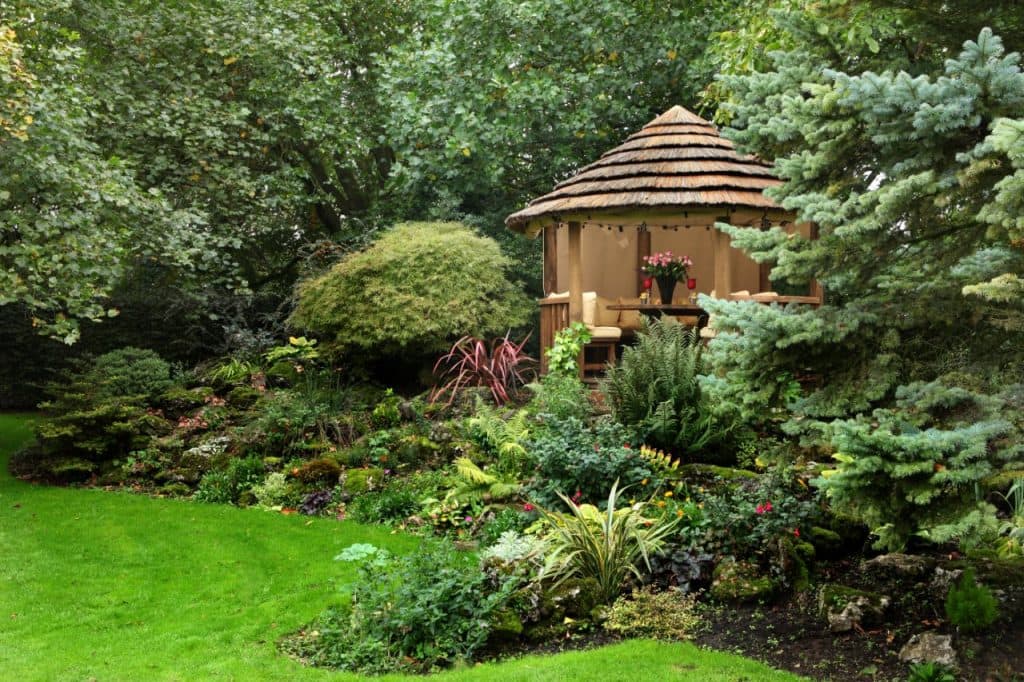 6. Hot Tub Wooden Gazebos
Garden hot tubs have become increasingly popular in the UK. Unfortunately, they rarely blend in with the natural environment. One solution to this challenge is to enclose your hot tub in a wooden gazebo which also has the added benefit of providing added privacy and protection from the elements.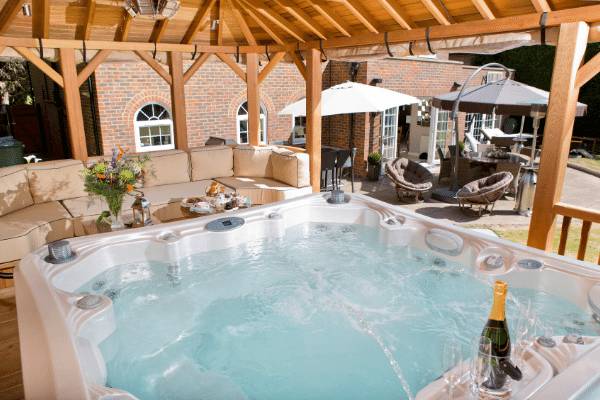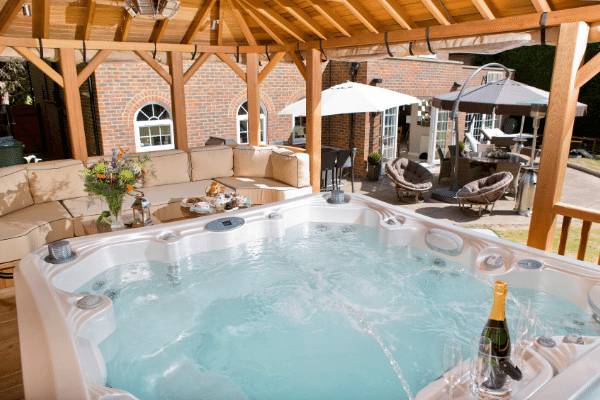 7. Bespoke Wooden Gazebos
Bringing your own ideas to life is a hugely rewarding process. The possibilities are endless. Working directly with experienced wooden gazebo designers, you decide the shape, features, configuration, materials and soft furnishings to create your very own bespoke garden gazebo. Maybe you would like to incorporate a bar or outdoor kitchen area? Maybe you want to create an outdoor cinema and hot tubbing area? Or maybe you want to incorporate all of these features in one luxury outdoor adult playground!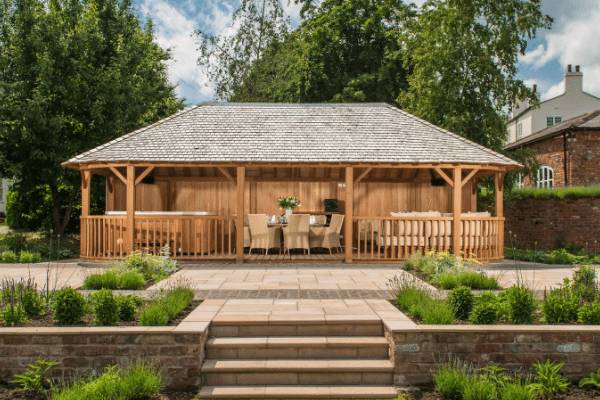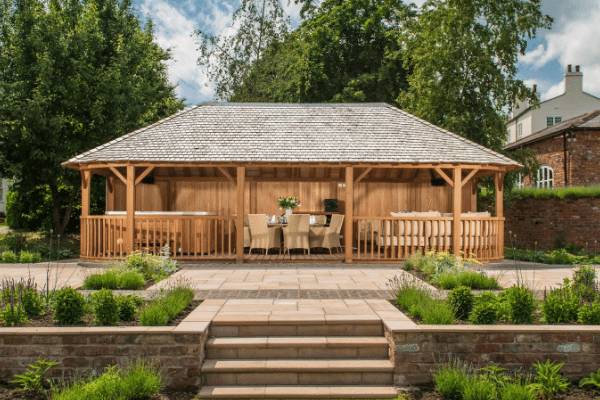 8. Heated Wooden Gazebos
The most effective way to quickly heat an outdoor wooden gazebo is with an infrared ceiling heater. They heat the space amazingly quickly and are reliable and durable. There are different models available based on the size of the space you are heating, from 3kw up to 6kw. They also come with a built-in spotlight to add convenient lighting to your gazebo. You will, of course, need to contact a local electrician to run an armoured cable from your fuse box to your wooden gazebo.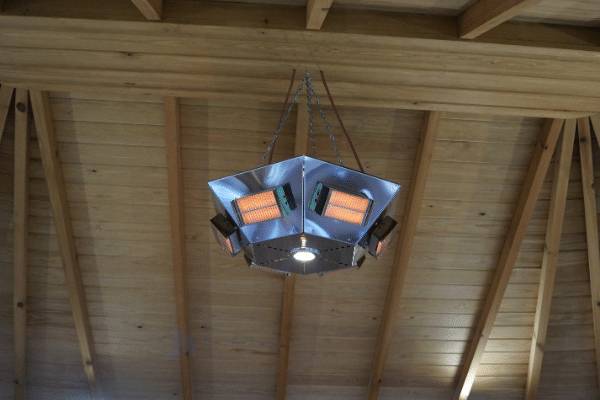 9. Wooden Gazebos with Doors
Yes, you can even have a luxury gazebo with fitted doors. This is something a number of our customers had been asking for, so in 2019 our gazebo design team set to work on engineering a solution. Adding a set of made-to-measure doors creates added protection from the elements and blurs the lines between a garden room, summer house and luxury wooden gazebo.
Contact us to find out more about our luxury wooden gazebos or visit one of our UK showrooms to view our display models.